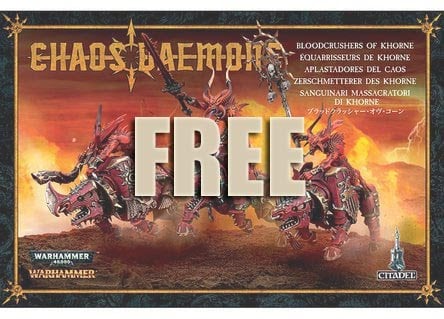 Okay so we're back with the results of the voting for the Monthly Give-Away. Again I know this is the first post since last week, and I apologize for the lack of hobby content as of late. I have been super busy working on the biggest baddest conversion of my life lately- more that later, but for now freebies…..
 So as some of you pointed out there was a huge influx of votes towards the end of last weeks voting. Well I did some digging, and apparently its actually hard to cheat the blogger voting widget. You have to use a different IP address for each vote, so the only real way to get a ton of votes is to get a bunch of your friends to all get on and vote individually.  Which if you are in a WoW raid guild may be quite easy as some comments suggested, however completely legal (and encouraged).
So officially the vote stands. Hamalope is the winner with;
Nurgle wins easily, because every time I leave a stack of dirty dishes in the sink, forget to take the garbage out or wear the same underwear two days in a row I grow more powerful (which was my favorite as well)


However I do also like brothercornelius's  better ingredients. better zombies. papa nurgle. So he will get runner up status and win a cool new Skulltaker blister. 
So Hamalope and brothercornelius please shoot me an email with your contact / shipping info so I can get your winnings out to you. 
But wait there is more….
I'll be announcing November's Contest in a few days. If I was a betting man I would wager it would have to do with Dark Eldar….?
So that's it for October here at Spikey Bits. Please don't forget to show some support for the blog next time you need your hobby fix, by visiting our discount online store.  Soon we'll be back posting several articles a day helping you with your hobby questions, showcasing new tecniques and miniatures, etc!
See you soon! Thanks for reading – MBG