Have you tried these yet? Our latest shipment of Minitaire Paints is here and processed into our warehouse.
We even have some paints left over for sale, and quite a few complete sets of the whole line of paint ready to ship as well.
But I implore anyone still on the fence to get an order in now, because our next restock may not be until late summer!
I haven't seen a revolution in miniatures painting like this since the early 2000's when Vallejo came along an made us all realize that there were better paints out there than just Citadel.

Well as you may know these paints have literally been flying off our shelves and neither we nor Badger can keep up with the demand.
I've updated our Minitaire Paint page to provide more accurate in-stock information on these amazing paints.
Oh and checkout this sweet minitaire color guide they just published to help you match the colors you need!  I'm also working on a comparison guide with other brands as we speak, and hope to have that published shortly.
Please Read a Note on Minitaire Paint
It is quite possible that we'll sell out of these paints again, so make sure to order now though our system to get your paints guaranteed!
Also be checkout my article on these amazing paints here.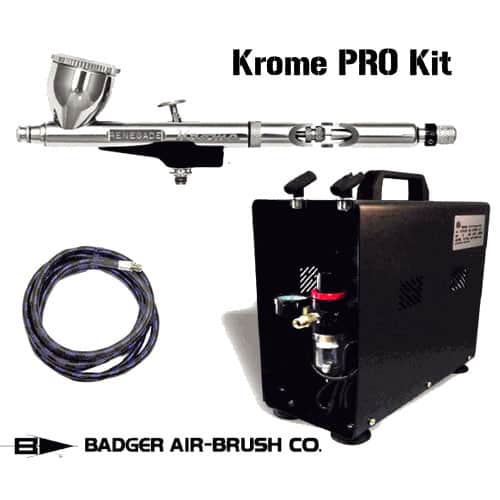 Plus to help get everyone get started off right with airbrushing, we have a few of the best airbrush and compressor kits on the market left for sale, the Badger Krome.
I know this was a lot of information all at once, but the Minitaire paint line is an amazing product that I really believe in.
Be sure to checkout all my other great airbrushing articles as well HERE
I really, sincerely, hope these products, and my tutorials help dissolve some of the mystery and help you learn art of airbrushing. -MBG