Come see the new Space Wolves releases unboxed in today's THREE-FER unboxing feature on the new kits!
The new Space Wolves are here! Checkout the new HQ models and the Start Collecting box sets.
While the new Start Collecting set is pretty much a collection of kits that we've already seen, BUT at $114 retail for all the sprues added together you can't beat that deal.
Plus there's a great new formation included in there as well that can let you charge with one of these units each turn after running.
Source: barcode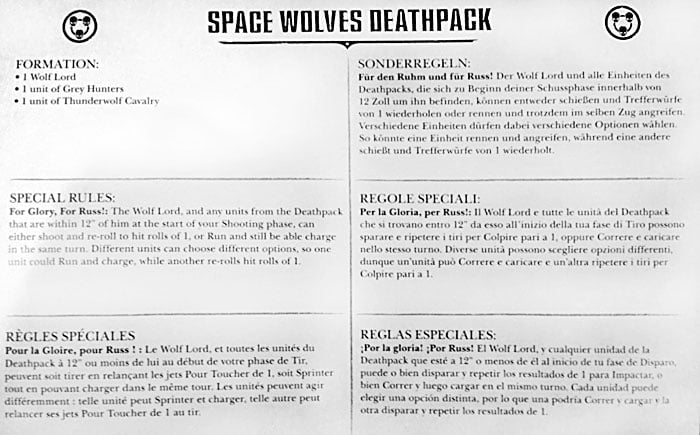 This is a great-value box set that gives you an immediate collection of fantastic Space Wolves miniatures, which you can assemble and use right away in games of Warhammer 40,000! You'll receive three Thunderwolves, a Space Wolves Wolf Lord, a ten-man Space Wolves Pack and an exclusive Space Wolves Formation rules sheet, allowing you to collect, assemble and play with your new miniatures right away! 
Ulrik is a great looking model, that doesn't have too many options for posing besides the head. You could perhaps shave down the hand from the helmet and try to make the old scroll model pose perhaps, and the hand detaches at the wrist.
This guy's a treasure trove of Space Wolf bits. He has a great looking pistol, and backpack that you can kit bash for other models. Plus the Iron Priest also detaches at the waist so you can put him on a mount as well!
Overall these models all are great additions to any Space Wolves army.  Perhaps we'll see more releases for the Vlka Fenryka in the next release arc for the Warzone Fenris saga!
The New Space Wolves Model Kits – UNBOXED
Take the $1 challenge and support our videos for just one buck. Plus get a FREE box of swag every month for supporting our video features a little more generously.
Plus for February 2016 get a free Horus Heresy Betrayal at Calth Squad (or an X-Wing/ Armada new release ship if your into Star Wars) just for signing up!