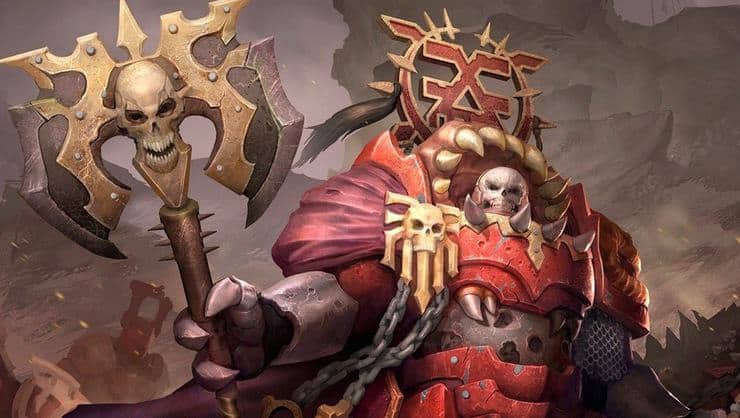 The last battle mat by Games Workshop may have left a lot of hobbyists feeling a little iffy about the quality of their mats. Will the Khorne Dominion change that?
Join us in our unboxing of the Khorne Dominion where we take a very close look at the newest battle mat for Age of Sigmar by Games Workshop!
But if you're curious about the 40k verison, check out our last Games Workshop battle mat unboxing!
This mat seems to have all of the features that we talked about in our previous GW battle mat unboxing such as the non-slip rubber base, durable double stitched edge, and tough material that can be ironed flat if needed.
We have yet to take an iron to any of our mats but they have been washed in the washer machine, so they are washer safe at least, but they are definitely not dryer safe! So make sure you hang them over your shower curtain or somewhere else to dry out before putting them away.
So were not very impressed about the coloring of the last game mat by Games Workshop because it felt a little washed out. But this one looks very vibrant- just like it does on the box cover. By the very first appearance it feels like we didn't waste our money.
And the box it comes in is by far the heaviest box we have yet to see come out of Games Workshop so you get the feels just from lugging this thing to your table right off the bat.
The detail is looking very very good and the stone engravings are very vibrant.
The bronze is very matted but striking at the same time and looks to melt into the lava around the edges. The detail is very incredible to tell the truth.
I feel much better about this mat than the last one, but as many players know you would be hard pressed to play a 40k game or a larger Age of Sigmar game on it because of it being a 4×4 mat.
Now I do have a HUGE bit a criticism that I just cant let go. Both the mats I bought are not truly 4×4 sized, they are off nearly 1/2″ on both the length and the width. From the picture you can see the measurement, and checkout the noticeable difference as well in the printing between the 40k mat, and the Khorne one as well.
So while the new Khorne mat IS better quality wise from my eyes, both mats fall short under the tape measure test today.
Checkout the full unboxing video and scroll down to see how to get your very own
A great way to get yourself an instant, full-colour surface for your games of Warhammer Age of Sigmar, the Khorne Dominion Battle Mat is a high-quality neoprene rubber mat with a printed design. It doesn't need to be painted, it looks fantastic with scenery pieces on, and can be placed on any flat surface for an instant place to play.

It measures 4'x4' and is durable enough to be ironed flat! It's double-stitched at the edges for even more (even more!) durability, and can be rolled or folded away for easy storage. Make your gaming table look spectacular in seconds!