The new June 2017 issue of the White Dwarf is finally here! Come see this cool 8th Edition special companion issue that's got the goods on the new 40k!
The June 2017 White Dwarf issue is an 8th Edition extravaganza. Our full Unboxing video is below if you want to see all of what it is inside.
Now this month's issue does contain a good portion of information that we have seen for months already. It's more of a companion White Dwarf, and it's going to give you more information on the stuff we already know, some battle reports, a lot of cool paint schemes, etc.
Also if you live in America, White Dwarf has issued an apology letter from White Dwarf Editor Matt Keefe for all the delivery errors over the past few months for subscribers in the States.
Also in this issue is a nice section of the Skirmish book for Age of Sigmar a Golden Demon article showcasing some great work is also in there as are other articles that aren't solely centered on 8th Edition.
Now, the battle reports that come in this issue are definitely worth a read. We won't give any spoilers but they were interesting to say the least. What is always a gem in the White Dwarf are the paint scheme articles. This issue has lots of that with the Four Warlords showing off their paint schemes and a Paint Splatter on the Space Marines and Death Guard.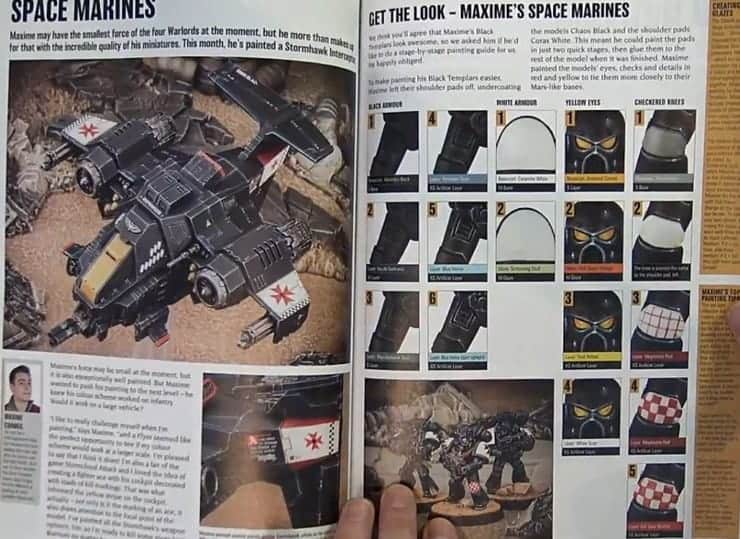 The teaser for next month's White Dwarf includes a "Know No Fear!" section. So we may get to see some those future Primaris Marines releases that we already know are coming as early as next month!
It's the news you've all been waiting for – a brand-new edition of Warhammer 40,000 is here, and White Dwarf provides the ultimate guide to everything you can look forward to from this latest, greatest incarnation. In our massive launch feature, we bring you a look at the new rules and what it means for your army, we look at the Index Books, offer you a guided tour of the stunning new Primaris Space Marines and Death Guard miniatures and more. You can see the team playing their own first games with the new rules in First Blood, and an almighty battle worthy of the new edition – between White Dwarf's Dan Harden and games designer Robin Cruddace – in this month's Battle Report. And if you're picking up the Dark Imperium boxed set (why wouldn't you be?) we've got Paint Splatter for both the Ultramarines and the Death Guard. On top of all that we've got a feature-length interview with the Design Studio's Art Team. Pick up a copy for all this and more.
Be sure to check out our Unboxing vid for the White Dwarf June 2017.
Are Daemon Prince's OP? Episode 154