Checkout just what you can do with the new citadel painting handle. Plus the advantages and uses of the Citadel water pot!

Winter is coming and hobbyists are hunkering down with their projects to pass the time. Games Workshop has some tools that can help!
Among the Tyranid and holiday bundle releases, Games Workshop has dropped a plethora of hobby bundles and tools. Among them is the new painting handle that will hold standard 28mm-40mm miniatures for painting. Also released is the water pot which is a simple reissue.Our very own Rob Baer has a quick review for you of these products to give you an idea of what you can expect to see with these hobby accessories.
For our complete review, be sure to scroll down and press play on the full video below.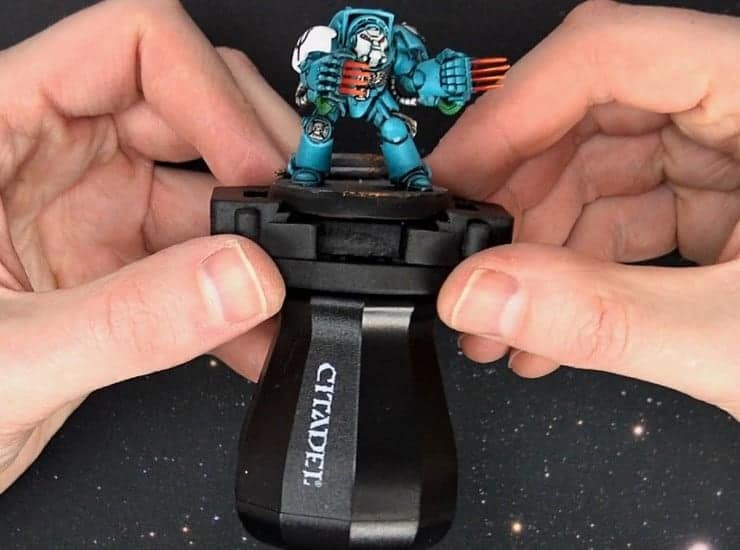 The Painting Handle retails for $8 and beginning hobbyists will find this tool quite handy. Now, fair warning, it is quite small and if you have big hands, this accessory may not be for you. The handle portion is attached to the clamp mechanism on top with a 1/8 screw. This is a standard screw size for most camera stands. So, there are options to use the clamp bit on another stand altogether. The clamp mechanism itself can hold miniatures up to 40mm base size. At the 40mm range, Rob did notice that the clamps themselves were bowing out abit.
The Water Pot is exactly what it sounds like. It is the reissue of the same water pot from Games Workshop that was released several years ago. It retails for $8 and is a great way accessory to use for painting, cleaning, and storing your brushes. The lid of the pot has several slots in which brushes of various sizes can be slotted into so that they can rest in the water to clean and store without bending the bristles.
Rob goes further in-depth in his review video below on how to use the Water Pot with various brush soaps.
Making it much, much easier to hold your miniatures securely while painting them, allowing you to find the perfect angle with which to access the fiddly bits while avoiding the inevitable hand cramps that come when holding a base for a long time, the Citadel Painting handle has been designed for painters, by painters.

If features a spring-loaded clamp mechanism, which locks tightly onto 25mm, 32mm and 40mm round bases, as well as fitting 60x35mm oval bases.

Grasping the sturdy plastic handle rather than the base or miniature you're painting means fewer smudgey mistakes from careless fingers and will help you improve your painting all round!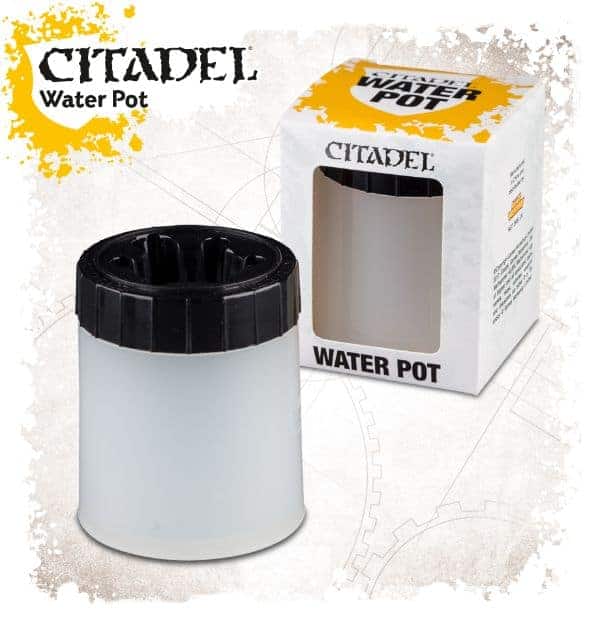 Designed as a water pot to wash your brushes in, the Citadel water pot features a lid which holds up to 6 brushes of various sizes, allowing them to rest in the water without flattening and bending their bristles on the bottom of the pot.
These hobby accessories are available now. Be sure to press play on our quick and dirty unboxing and review video below for the full review.
For more on these accessories and all things Warhammer and hobbying, visit Games Workshop!