The Orcs are not known for their craftsmanship, but what they build gets the job done. The Orc Gate from Kromlech will bring all the boyz to the yard.
Contents of this frames may be used to make 1 Orc Wall Gate.
Instruction is fitted to give guidelines and tips on how to assemble the product. Supplied unassembled and unpainted. Designed for 28mm heroic scale.

Dimensions: width 15cm, depth 7cm, height 12 cm.

Painted by Bartlomiej Karpinski and Edwin Smolinski

Please note, some orders containing HDF buildings may be split into a number of parcels.
This Orc Gate will keep the bad guys out of your Orc Stronghold! Use it to add some more Orciness to your tabletop games!
Orc squig of approval!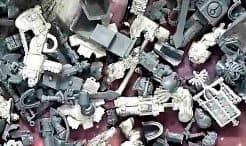 Spikey Bits Latest
Latest Long War Podcast - Listen NOW!