Raging Heroes has finally released their beautifully deadly Stingray Riders! These fabulous models are dripping with juicy details!
Box contains 3 Multiparts Riders (all Different with swappable parts with ball-joint assembly) + 3 different Stingray Mounts. The Riders are completely separate from the Mounts. This is the Science-Fiction version.

Descending from the skies, fast as lightning, these winged horrors hit and run with amazing agility.

Finely crafted in resin. Scale is 30mm Heroic: will fit all popular miniature wargames. Includes 3 x 40mm round bases.
These beautiful Stingray Riders would fit nicely as an alternate set of Reaver Jetbikers for Dark Eldar or as a sinister set of Skyweavers for Harlequins.
Sting or die!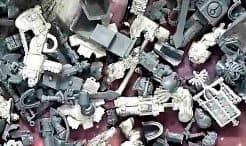 Spikey Bits Latest
Latest Long War Podcast - Listen NOW!