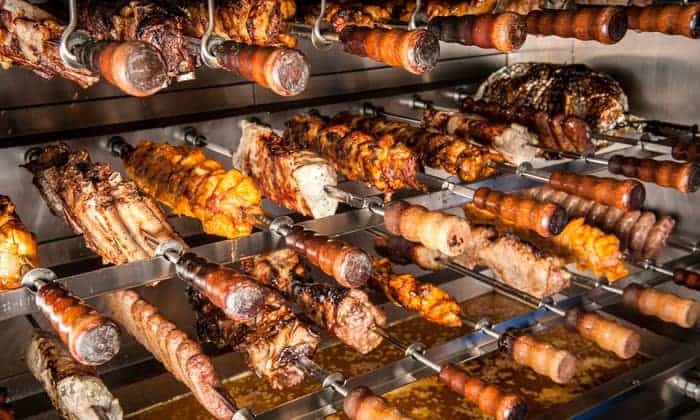 If you love your meats, Churrascaria: A Cutthroat Game of Gluttony is live on Kickstarter. Check out this tasty looking treat from Absurdist Productions!
This is the tastiest looking game we have seen in a long time. Churrascaria: A Cutthroat Game of Gluttony is a casual card game of food theft, plate swapping, and backstabbing for 2-6 players fighting to eat the most meat. Let's check it out!
About

Churrascaria is based on the experience of eating at a Brazilian-style steakhouse where waiters bring unlimited skewers of delicious meat directly to your table.

Players are trying to eat all the succulent meats that appear on their plates while avoiding the equally delicious but ultimately unsatisfying sides and desserts that get in the way. All the while, food theft, plate swapping, and general backstabbing keep the food flying and the steaks high. In the end, the person who consumes the most meat wins!
Churrascaria is a labor of love, but this unique and absurd little game can only be made with the help of folks like yourselves. Because producing a quality game isn't cheap, we've decided to use Kickstarter to share the game with the world and help raise the funds required to make our dream a reality.
Make Sure you head over to the Churrascaria Kickstarter today and take a closer look at this fun carnivorous board game of meat, meat, and more meat!
Spikey Bits Latest
Latest Long War Podcast - Listen NOW!