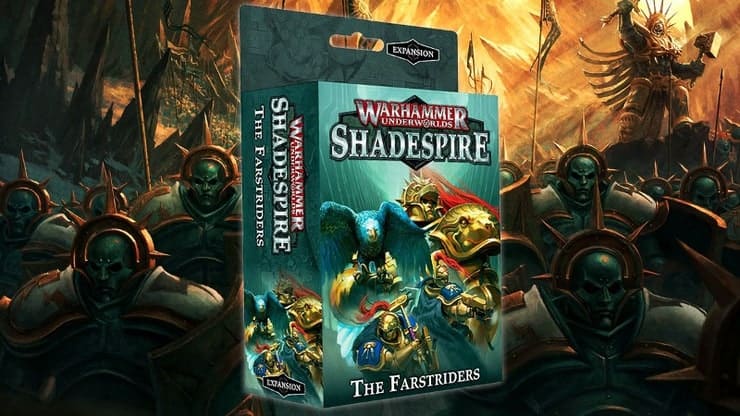 Get your decks and warbands ready for the latest addition to the Shadespire world: the Farstriders. Let's take a look at what's inside!
The Farstriders are Stormcast that are trapped within Shadespire and seek to return back to their kin by using the whispers of the dead to guide them. Their leader, Sanson Farstrider, will not rest until he and his companions have returned home and all those who stand in their way will fall.
Our very own Rob Baer has this warband on his paint bench to give you everything you need to know to field these warriors.
For our complete review, be sure to scroll down!
The Farstriders warband kit comes with 3 models on two sprues and 60 unique cards to customize your deck with. Rob covers the cards int he deck as well. More on that later. The models are push-fits and do go together easily enough.
There was a gap or two and Rob used Tamiya Extra Thin Plastic Cement to get right in those gaps. They do pop off their bases easily so that you can paint the base/texturize the base without difficulty. Farstrider's hawk was a little tricky. There is a notch that needs to be lined up in order to lock the hawk to the arm. The notch does have a burr on it so do not forget to smooth it out before attempting to attach.
The Farstriders will require some finesse to play since they aren't the one-shotters that we saw with the Stormcast warband. Now, that being said, one aspect of their deck which does stand out is the upgrades. Their upgrades give them a great deal of versatility and power. Destined to Meet will grant you 1 additional glory point if the figure is not out of action at the end of the 3rd action phase.
Another one that will definitely see use is Concealed Weapon. This will grant the figure +2 Damage to the fighter's attack action with a range of 1 and is triggered by a critical hit. Incredible Strength grants +1 Damage to all attack actions that have a Range of 1 or 2. There are also 2 reaction upgrades that allow you to push an opponent back one hex and have them waste additional activations in order to get back into combat.
Rob goes further in-depth with the cards and offers some tips in his full review video below!
Immortal warriors sent from the heavens to cleanse the Mortal Realms of Chaos, the Farstriders are a band of Stormcast Eternals trapped within Shadespire, separated from their kin, relying on the whispers of the dead to guide them home…

Introduce a new and unique warband to your games of Warhammer Underworlds: Shadespire and take advantage of new and different ways to play – whatever warband you use – with this set of miniatures and cards. It includes 3 Farstriders miniatures – Stormcast Eternals Vanguard-Hunters, who employ ranged weapons – and a deck of 60 cards, 31 of which are universal, to be used by any and every warband – add these cards to your arsenal and build your perfect deck.

– 3 Easy To Build, blue plastic Farstriders miniatures: Sanson Farstrider, Almeric Eagle-Eye, Elias Swiftblade;
– 60 unique cards for use in games of Warhammer Underworlds: Shadespire, broken down as follows:
– 9 objective cards for The Farstriders;
– 10 upgrade cards for The Farstriders;
– 10 ploys for The Farstriders;
– 11 universal objectives, for use with any Warhammer Underworlds warband;
– 10 universal upgrades, for use with any Warhammer Underworlds warband;
– 10 universal ploys, for use with any Warhammer Underworlds warband.
The Farstriders Warband is available now online and in local Games Workshop stores. Be sure to press play on our quick and dirty review video below for the full product breakdown.
For more on the Farstriders and all things Shadspire visit Games Workshop!
Spikey Bits Latest
Latest Long War Podcast - Listen NOW!