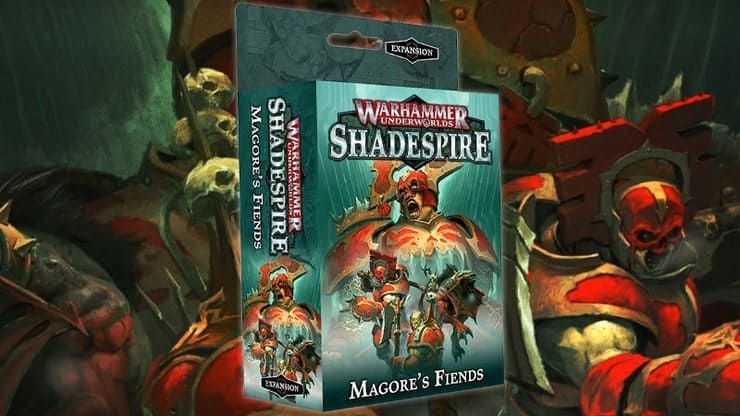 Get your decks and warbands ready for the latest addition to the Shadespire world: Magore's Fiends. Let's take a look at what's inside!
Magore Redhand's warband is in the Mirrored City for one thing and one thing only. Blood. With their acts of gory violence, they defile the city and attract the attention of Khorne with the hopes that he will reward his loyal servants well.
Our very own Rob Baer has this warband on his paint bench to give you everything you need to know to field these warriors.
For our complete review, be sure to scroll down!
The Magore's Fiends warband kit comes with 4 models on two sprues and 60 unique cards to customize your deck with. Rob covers the cards int he deck as well. More on that later. The models are push-fits and do go together easily enough. As we saw with the Farstriders models, there was a gap or two and Rob used Tamiya Extra Thin Plastic Cement to get right in those gaps. Having custom bases that the model can easily pop off of aresuch a good thing for airbrush users.
Something else to note is the excellent design for these models that hide the mold lines.
Magore's Fiends hit about as hard as those in the Reavers' warband plus they do have a solid selection of skills and multiple opportunities to cleave. Their upgrade cards do have some standouts. Deathly Fortitude grants -2 moves and 2 wounds. The Formless Key is an upgrade that will award 1 glory point if the fighter is holding an objective in the third end phase.
Dark Darts is solid with Range 3 and 3 Damage. The best parts of this upgrade is that has cleave and does not go away after a successful attack.
Rob goes further in-depth with the cards and offers some tips in his full review video below!
Mighty champions of ruin whose unquenchable lust for slaughter drives them ever onward, Magore's Fiends are Bloodbound warriors who will defile the Mirrored City so utterly with the blood of the fallen that Khorne will reward his loyal servants well.

Introduce a new and unique warband to your games of Warhammer Underworlds: Shadespire and take advantage of new and different ways to play – whatever warband you use – with this set of miniatures and cards. It includes 3 heavily armoured Blood Warriors miniatures, a Flesh Hound, and a deck of 60 cards, 31 of which are universal, to be used by any and every warband – add these cards to your arsenal and build your perfect deck.

– 4 Easy To Build, red plastic Magore's Fiends miniatures: Magore Redhand, Riptooth the Flesh Hound, Ghartok Flayskull, and Zharkus the Bloodsighted;
– 60 unique cards for use in games of Warhammer Underworlds: Shadespire, broken down as follows:
– 9 objective cards for Magore's Fiends;
– 10 upgrade cards for Magore's Fiends;
– 10 ploys for Magore's Fiends;
– 11 universal objectives, for use with any Warhammer Underworlds warband;
– 10 universal upgrades, for use with any Warhammer Underworlds warband;
– 10 universal ploys, for use with any Warhammer Underworlds warband.
Magore's Fiends is available now online and in local Games Workshop stores. Be sure to press play on our quick and dirty review video below for the full product breakdown.
For more on Magore's Fiends and all things Shadspire visit Games Workshop!
Spikey Bits Latest
Latest Long War Podcast - Listen NOW!