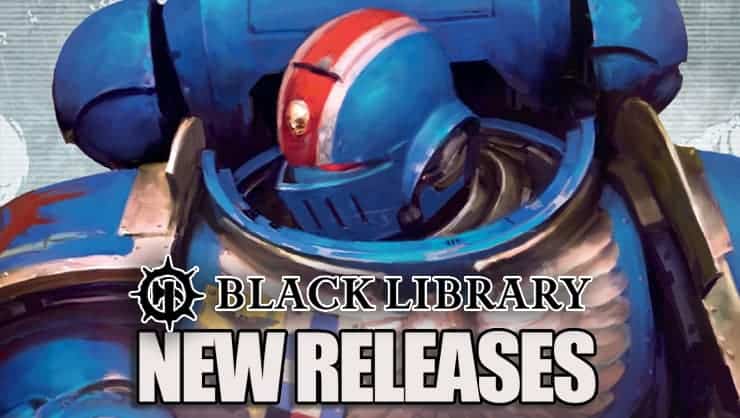 GW revealed even more new releases for next week with another wave of Black Library books hitting pre-orders on April 30th!

Games Workshop just let us in on more new releases that will be going up for pre-order this coming Saturday at 1PM eastern here in the states.
Be sure to click here for the latest special on Audiobooks that is happening right now to score free Black Library books!
Now let's look at next week's Pre-Order line-up from Warhammer Community.

Huron Blackheart: Master of the Maelstrom Limited Edition
The return of Roboute Guilliman has thrown a huge spanner into the plans of the renegades that have renounced the Imperium, including the infamous Huron Blackheart. Now he's facing a challenge to his authority from within his own ranks, and he'll need all his tricks just to survive.
Huron Blackheart: Master of the Maelstrom is available in a glorious limited edition version, signed by the author and featuring a soft-touch cover, full-colour artwork, and red page edging.
It's limited to 2,000 copies so it might go quick! However, if you still want to read it, you can still pick up "normal" editions.
Huron Blackheart: Master of the Maelstrom
Hardback, Digital, and Audiobook versions of the book are all also going to be available, so save a few bucks!
The Imperial Infantryman's Handbook
The ultimate guide for every member of the Astra Militarum is back in print! With advice on everything from personal equipment to regimental organisation, this satirical look at life in the Guard will have you chuckling as you fix your bayonet.
If you want something with a little bit more charm, then this handbook might be for you.
Penitent
Book two in the Bequin series comes to paperback. Will Alizebeth Bequin stand with the Inquisition, and if she does, will she follow the ruthless Ravenor or the heretic Eisenhorn? As she makes her decisions, she must withstand an onslaught of angels, daemons, and even the monstrous warriors of the Traitor Legions.
This has been a pretty popular series, so now might be your chance to pick up a copy if you haven't yet.
Gloomspite
Black Library also pays a visit to the Mortal Realms with the release of the Gloomspite audiobook. Skragrott the Loonking leads the Glomspite Gitz to the city of Draconium as he follows the Bad Moon. Can the human defenders hold back the endless swarm of grots?
Audiobooks are always a great pick-up, especially for people who can listen to something while at work or hey, even just while driving in the car!
You can see this is quite the sweet deal if you want to listen to podcasts or books! Especially if you're traveling, this is perfect to help pass the time. Here's everything you get even at the cheaper price:
1 credit a month to pick ANY title from our entire premium selection—to keep forever!
Stream or download 1,000s of included audiobooks, podcasts, and Audible Originals in the Plus Catalog.
No commitments. Cancel anytime and keep all your purchased titles.

If you've never used Audible before, the credits are really cool. You get a free book a month, on top of all the streaming stuff, that you get to keep.
Are you excited about the new Black Library books hitting pre-orders on April 30th?
Let us know in the comments of our Facebook Hobby Group, or our new Discord server, and make sure you enter the latest monthly giveaway for FREE today! 
Get ad-free access to our hobby videos, a monthly drop of miniatures, and support some of the best creators out there for as little as $6 a month on Patreon!