Get ready to deliver some superior justice from Raging Heroes' the Mother Superior. Your enemies will not know what them when this lady rolls in.

Finely crafted in resin. Scale is 30mm Heroic: she will fit all popular miniature wargames. Includes 1 x 40mm round base.
Mother Superior is ready to lead your Sisters of Battle army as a Cannoness. Her faith in the Emperor will ensure you defeat Chaos this day!
Superior beatdowns!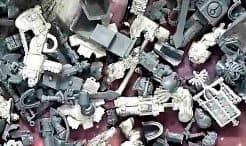 Spikey Bits Latest
Latest Long War Podcast - Listen NOW!