Dice are one of the most important aspects of tabletop gaming, so why not grab a set that looks really nice? Puppetswar is switching up the gears with this set!
Set contains 10 orange dice (15x15x15mm)
These dice are red hot and orange and have the Puppetswar Jester symbol for the 6 side. Grab a set and get to rolling! Hopefully not for armor saves though!
Roll the dice!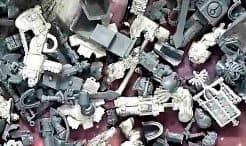 Spikey Bits Latest
Latest Long War Podcast - Listen NOW!