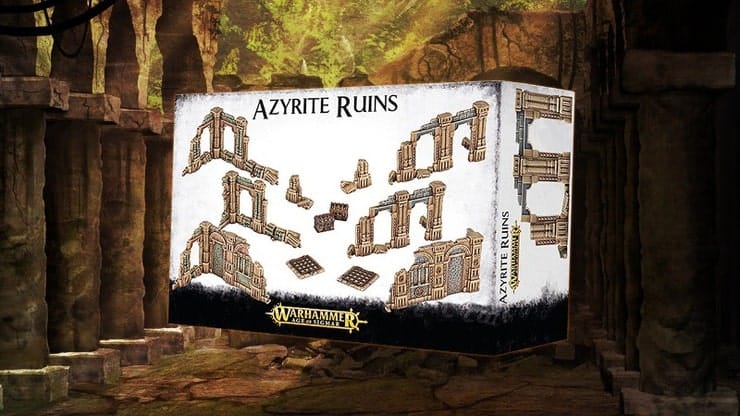 If you are looking for an affordable terrain kit for your games of Age of Sigmar then check out Games Workshop's latest terrain for their battlefield in a box: the Azyrite Ruins.
Alongside the Daughters of Khaine releases, there are also some terrain options that have been released for Age of Sigmar. Our very own Rob Baer got his hands on the fresh new Azyrite Ruins kit that features the latest in push-fit terrain for Age of Sigmar.
This kit is on his paint bench to provide you the full breakdown of what you can expect to find inside.  For our complete review, be sure to scroll down!
The Azyrite Ruins terrain kit is part of a dual release from Games Workshop. The other kit features large, double-sided, cardstock battle boards. The Azyrite Ruins retails for $30 and comes with 12 push-fit plastic ruins that are pre-colored.
This kit is made in China so the material is slightly different than what you see in plastic multi-part kits. That being said, the level of detail is far better than the first kits we saw from China. The brickwork is a bit flat for our tastes but there is enough detail around it to make it look realistic. 
It will take longer to clip the pieces out than it will take to push-fit them together. The slide and lock system is great and you may not have to use glue to keep them together. Something that Rob did not like about this kit is the number of mold lines.
This is a larger, clunkier type of plastic that it will clean up decently, but there are a TON of mold lines everywhere.
The Azyrite Ruins also comes with a free downloadable pdf that contains a scenery warscroll and three battleplans that can be used with these ruins and the cardstock Realm of Battle kit.
Rob dives further into the detail of the kit and how the slide and lock system works in his full review video below!
Easily add scenery to your games of Warhammer Age of Sigmar with this set of 12 push-fit plastic ruins. Each piece comes on pre-coloured plastic: just slot them together (no glue required!), place them on your table, and you're ready to play. Included in the set:

– 6 large ruined walls;
– 2 small ruined walls;
– 2 padlocked grills;
– 2 padlocked chests.

Rules for using these scenery pieces in games of Warhammer Age of Sigmar are available as a PDF download.
The Azyrite Ruins terrain kit is available now online and in local Games Workshop stores. Be sure to press play on our quick and dirty review video below for the full product breakdown.
For more on this terrain kit and all things Age of Sigmar, visit Games Workshop!
Spikey Bits Latest
Latest Long War Podcast - Listen NOW!