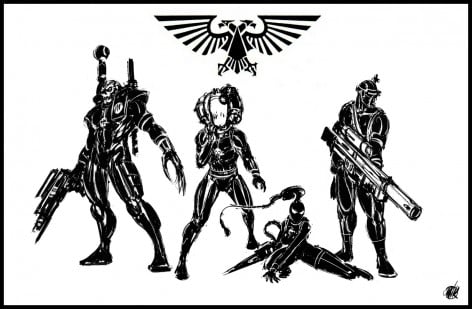 The Assassins HERE and they look spectacular! Come see what may be the HOTTEST miniatures in a long time!
via MOOSE PUNCHER 4-20-2015
White Dwarf #65 cover
Let's hit these one at a time:
Eversor: I'm liking that crazy corridor leaping pose, the tons of pouches and equipment and of course the psycho skullmask!
Callidus: Harlequin like pose and the flowing hair pulls it all together.
Vindicare: Almost casual hiding pose looks like it could be pulled out of any modern warfare videogame.  Nice job.
Culexis: very Giger-esque and menacing compared to the terrible Mardi-gras float head the last one had.  Creepiest of the bunch.
~Now imagine if they re-made all the old 90's special characters like this!