Come see a few little details about the new Tau Crisis and Enforcer suits that you may not have noticed at first glance.
pics via reddit  and warseer's aracerssx 10-10-2015
Let's take a second look at the images that were spotted a few days ago showcasing the new suits: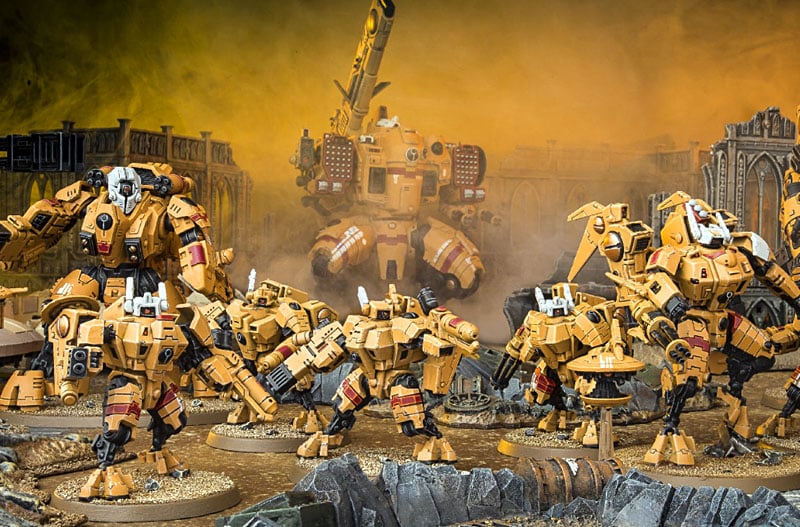 New Crisis Suits & Enforcer Suit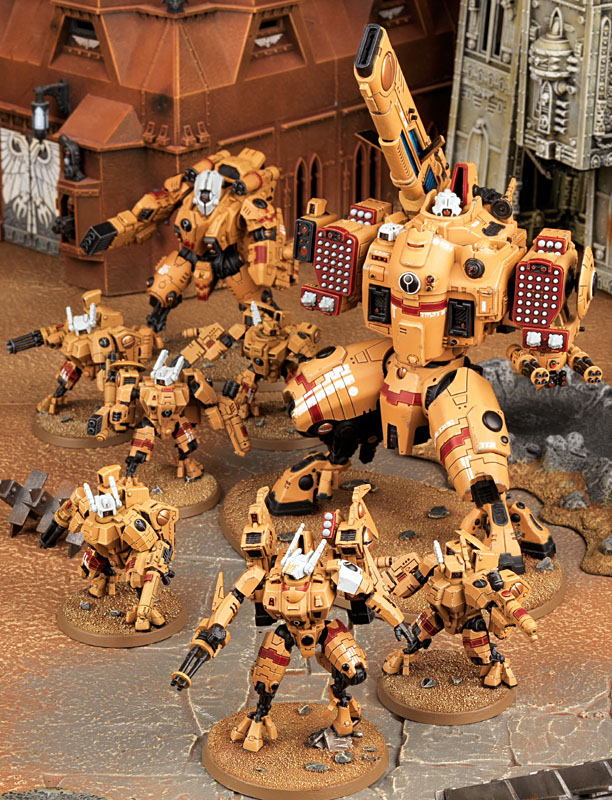 New Tau Commander
The first thing I notice about the new Crisis Suits is that they look to have posable waists, and jointed arms. That allows for dynamic posing that was previously only possible though conversion work.
Their bases appear to be a larger 50 mm base than the 40mm base we're accustomed to. Since they are resting on the same plane in the picture above you can relatively compare the size of the Stormsurge's base of 100mm to the crisis suits'.
Looks to me that you can fit two across the middle where the knight base is the largest (100mm).
That seems to put the Commander suit in the foreground at a solid 60mm base as well!
Their jet packs appear to also be a little out of scale with the rest of the suit itself, perhaps because of their function in general as power supply/propulsion/weapons mounts?
This go around the Commander Suit is also looking quite large, perhaps meant to be halfway point between the Crisis Suits and the Ghostkeel?
If I was a betting man I would say that the Enforcer suit above will be a dual kit to also make Coldstar variant as well!
Exciting models look to be coming soon for the Greater Good, will your wallet be able to withstand the good word?
Spikey Bits Latest
Latest Long War Podcast - Listen NOW!