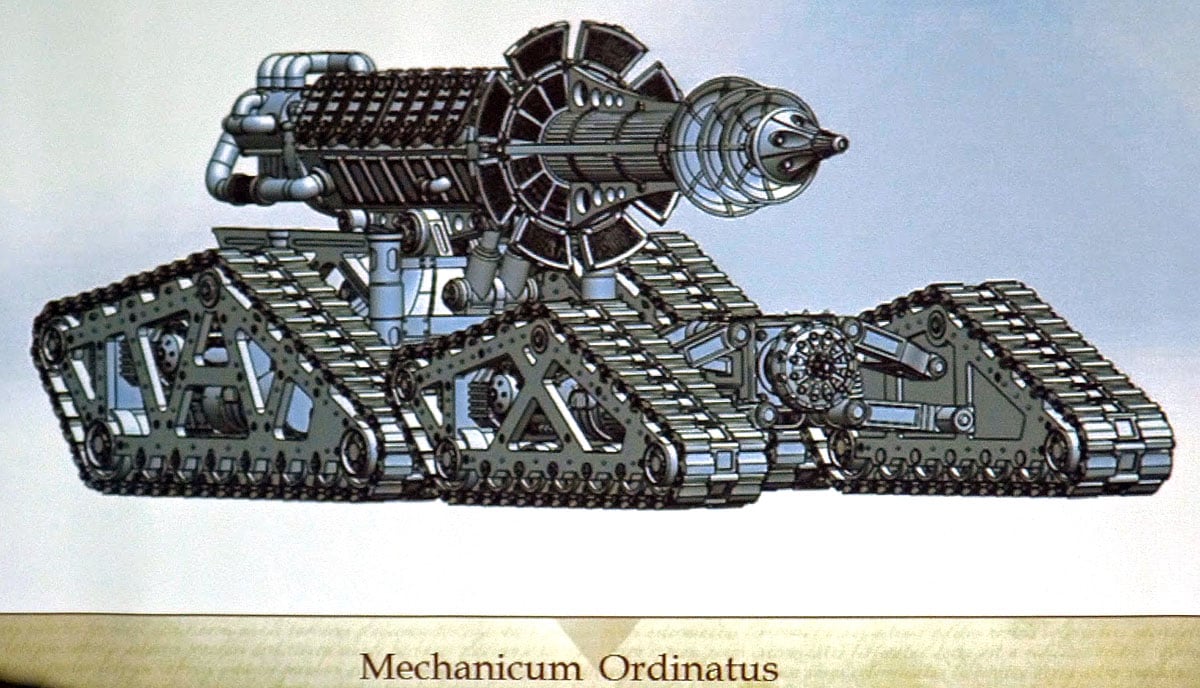 Come see the BIG GUN itself!  With the Mechanicus it's go big or go home. What do you know of the secretive and dreaded Centurio Ordinatus?
Lore by our our friends Lexicanum:
Ordinati are leviathan sized warmachines created by the Adeptus Mechanicus.
Overview 
The Centurio Ordinatus is the Mechanicus organization responsible for all aspects of these machines. Every individual Ordinatus is a unique construction and named for the world on which it was first employed or built. Each Ordinatus is unique in that it was designed for specific purpose, for a particular battle. This is why the different Ordinatii have very specialized weapons configured for their intended role. Some were designed to devastate whole cities with a single shot, some devoted to dealing with enemy Titans, while others can transport entire regiments of soldiers under the earth. When the Adeptus Mechanicus was torn apart by civil war during the Horus Heresy, both sides unleashed all manner of Ordinatus upon each other.
After the Heresy, many Ordinatus were abandoned, lost or simply forgotten, remaining hidden in secret armouries, deep underground or in remote locations. Perhaps the greatest military weapons ever conceived, the rediscovery of an Ordinatus often results in civil war, as the finders begin fighting over the great prize. Before they can be sent to war, Ordinatus must be ritually blessed by the Lord of the Centurio Ordinatus. Their crews are highly trained tech-guard warriors. They are protected by an energy-intensive dispersion field which deflects projectiles and energy bolts.

Ordinatus Mars (EPIC)

Ordinatus Golgotha (EPIC)

Ordinatus Armageddon (EPIC)
Known Ordinati
Checkout the RETRO set of Ordinatus rules for apocalypse from the classic BoLS years!