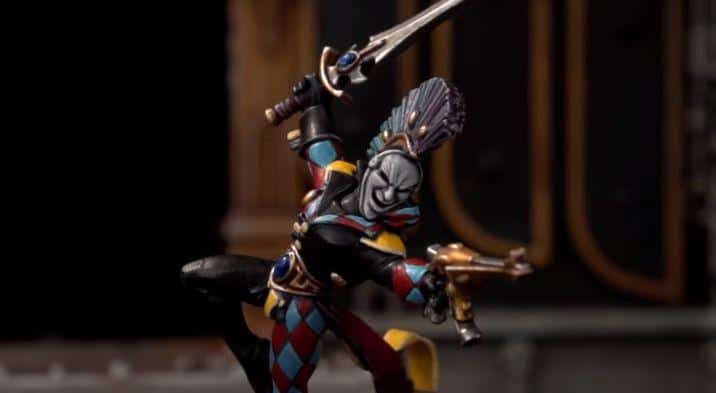 Ever looked at an Eldar Harlequin and wondered how they paint all the freehand line work? Wonder no more with this painting tutorial!
The guys over at Warhammer TV have brought us yet another great painting tutorial and this time they tackle the Eldar Harlequin.
Source: Warhammer TV (youtube)
Harlequins have always been considered a challenge to paint but in this video Duncan shows you to break it down in to nice easy to follow steps.
Eldrad Ulthran, the most skilled of the Eldar's prophets and one of the most powerful psykers in the galaxy, whose existence has spanned ten millennia, has put into motion a series of incredible events. Descending upon the planet of Port Demesnus, his intention is to seize its crystal moon, Coheria, for a forbidden ritual capable of awakening a slumbering god…

Watch Captain Artemis – born into violence, recruited into the Mortifactors, his talents in the art of detecting and slaying the merest hint of xenos taint saw him plucked from his Chapter and sworn to lead Kill Teams of the Deathwatch. The first to respond to the distress signals from Port Demesnus, and the first to realise Eldrad Ulthran's motives, he has diverted his strike force to Coheria.

The battle for this moon, and the events that transpire, will send shocking reverberations throughout the galaxy.

In the Death Masque boxed game, you'll find two forces of Citadel miniatures with which to re-create the tense battles set upon Port Demesnus. The included booklet contains 3 Echoes of War missions which allow you to play through the story, with full background explaining each battle. Full rules for all the miniatures are included, with an exclusive formation for both forces. Also included is a 208-page softback copy of Warhammer 40,000: The Rules with an exclusive Watch Captain Artemis cover.

Included miniatures:

Deathwatch:

– 1 Watch Captain Artemis
– 5 Deathwatch Veterans
– 5 Vanguard Veterans
– 1 Venerable Dreadnought
– 1 Deathwatch Upgrade Frame

Eldar

– 1 Eldrad Ulthran
– 12 Harlequin Players
– 1 Death Jester
– 1 Voidweaver
– 2 Skyweavers
– 1 Harlequin Transfer Sheet
"In war there is poetry; in death, release."
Spikey Bits Latest
Latest Long War Podcast - Listen NOW!