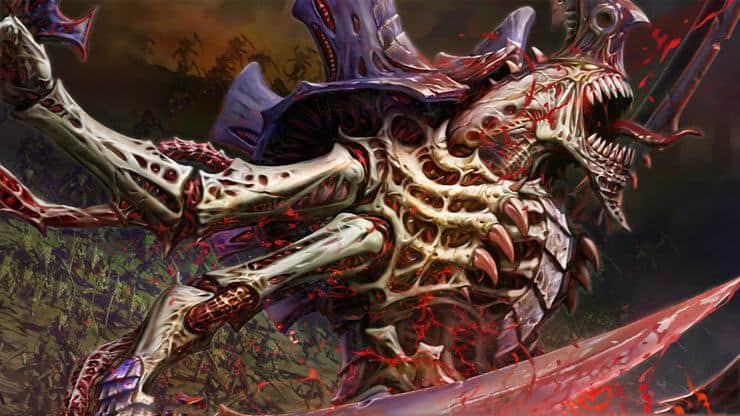 Welcome to another Next level painting tutorial!. Today Kenny is going to show us some easy tricks to painting Tyranid Flesh!
If you've been following along with our previous Tyranid airbrushing tutorials you've seen how Kenny is using his Ancient Chinese Techniques when painting this Tyranid Dimachaeron from Forgeworld.  At the end of our previous video, the Dimachaeron's main carapace and claws were finished.  Today we're going to cover some easy tricks for making the grossest Tyranid fleshy bits!
Kenny starts out by laying down a super thin base layer over the pre-existing red we left on in our prior video.  For this stage Kenny is using a super watered down Secret Weapon paint to preserve a lot of the existing color texture of the organic components.
After getting the base layer is down, Kenny follows up with a mid range skin tone from Privateer Press's P3 line.  Once again this layer is extremely watered down to preserve texture and shade the existing colors.
After touching up the highlights with a little burst of some Vallejo pink and white through the airbrush to get some nice bright highlights Kenny is ready for the final steps.  After hitting the fleshy parts with some gloss varnish, all that remains is to throw down some GW gloss wash!
Check out the full video for detailed instructions and a list of the paints Kenny used for this project.
London GT & Harlequins Break-Down Episode 150