With the release of 8th there's a lot of things selling out on the GW webstore. Checkout our picks of the top 10 products most likely to sell out.

People are starting to realize how strong certain models are in the new 8th edition of Warhammer 40,000, and the product is flying off the shelves. A lot of the items that made our top 10 list are already selling out here in the states, and if you take a look at their rules you will completely understand why. Let's dive right in.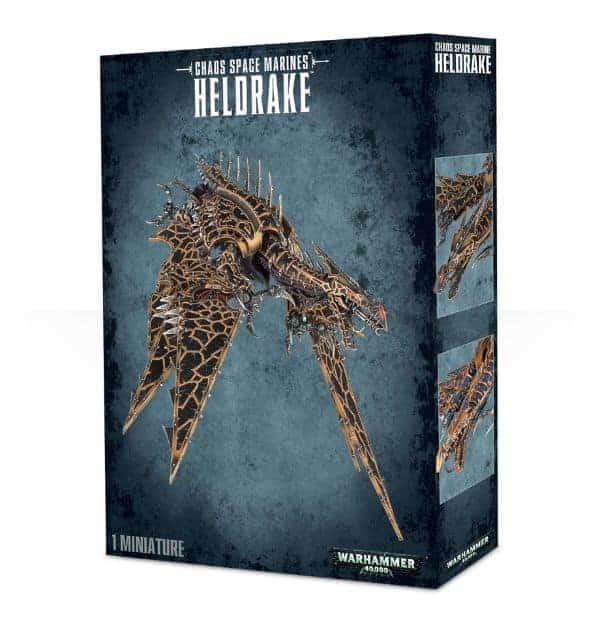 Description

Heldrakes are winged Daemon Engines that plummet out of the skies like living comets, hurtling towards enemy aircraft and crashing claws-first into them from above. A Heldrake takes cruel joy in diving down upon the unsuspecting air support of the enemy in order to shred them to pieces with its scything wings and rune-carved talons.

The Heldrake model is an enormous, dragon-like construct, a Chaos fusion of flesh, bone and metal. The model is sculpted as if soaring across the battlefield, and comes with numerous features: there are interlocking plates across the wings; a trail of cables from the rear of the model; as well as more subtle details such as wiring, rivets, spikes, and web of raised edging displayed across the metal plates. The Mark of Chaos can be discerned around the shoulder joints and on the wings.
This multi-part plastic boxed set contains 49 components, a flying stem and a large oval base, with which to build one Chaos Space Marine Heldrake.
Description

WEBSTORE EXCLUSIVE

Typhus is the most feared of all the Plague Fleet commanders. From his ancient warship, the Terminus Est, Typhus has led countless attacks against the Imperium, spreading contagion and misery on scores of worlds.
The Typhus model brings all the decay and ichor of Nurgle into the splendour of Citadel Finecast. His hulking terminator armour is covered in cracks and boils, as well as metal rivets and the symbol of Nurgle on one shoulder. Other features include chainmail, wires, vents rising from his shoulders and he carries a double-handed scythe-like weapon called Manreaper. A Nurgling is perched above one of his knees, while another slouches before him, licking a half-buried horn.

This is a finely detailed resin cast kit, and contains five components and one 40mm round bases with which to make Typhus.
Description

WEBSTORE EXCLUSIVE

Abaddon the Despoiler. Abaddon the Arch-fiend. An inhuman monster whose name has become a ten-fold curse for the ten thousand years of terror he has heaped upon the galaxy he once helped to conquer in the name of the Emperor. After the defeat of the traitor Horus, Abaddon fled to the Eye of Terror, only returning at the head of a vast, diabolical horde that ravaged entire star systems. Since that day, Abaddon has led twelve more Black Crusades against the Imperium and each attack has been more destructive than the last. It is only a matter of time before he returns to claim the one true prize – Terra.

This pack contains Abaddon the Despoiler – a finely detailed resin cast kit that comes in six components and is supplied with a 40mm round base. This miniature is supplied unpainted and requires assembly – we recommend using Citadel Super Glue and Citadel Paints.
Description

An imposingly tall, heavily armed engine of war, nothing announces its presence on the battlefield quite like an Imperial Knight Warden. Carrying itself into the thick of the action with heavy, thudding steps, the distinctive drone of the avenger gatling cannon sounding a terrible clarion call, the Knight is capable of unleashing a furious hellstorm of large-calibre shells that can tear apart even the most impressively-armoured foe. Should any enemy be brave – or foolish – enough to engage a Warden at close quarters, they'll find themselves at the mercy of some of the Imperium's most fearsome close-combat weaponry; the Reaper chainsword is the stuff of hushed legend amongst the Emperor's enemies.b
This is a serious, serious bit of kit! Everything you need in order to build one Imperial Knight Warden is included in this box; one complete 147-component Imperial Knight kit and this seventy-four-component upgrade kit. It features three completely new faceplates, a new tilting plate/shield, a set of new Adeptus Mechanicus icons and a frankly insane amount of weaponry: a chest pintle Meltagun, a gatling cannon assembly (with heavy flamer), the infamous Reaper chainsword, a thunderstrike gauntlet, a thermal cannon and a rapid-fire battle cannon – on top of this there are carapace options including rocket pods, missile pods and an anti-air twin Icarus cannon.
This kit shares the impressive posing options with the standard Imperial Knight, with head, arm and waist joints, and can be built as a Knight Errant, Paladin, Warden, Gallant or Crusader – the weapons are all interchangeable and can be used with any other Imperial Knight models you might own.

In total, this multi-part plastic kit comes with 221 components and stands tall on a Citadel 170mm Oval Base.
Description

Of all the archaic relics deployed in the field of battle by the Unforgiven, the Darkshroud is perhaps the strangest. Those who have witnessed it at close range and felt its caliginous pall, and lived to tell of it, are disturbed forever more.

The Ravenwing Darkshroud displays icons and structures from Caliban, evoking glorious religious imagery such as angel wings, shrouded statues, parchments and stained glass with lead frame. It possesses a pulpit-like cupola from which a Space Marine shoots others with either a heavy bolter or assault cannon, and is covered in metal panels, rivets, engines, all in the tough and robust style of the Space Marines. Three Space Marines are positioned throughout the vehicle.

This kit contains 88 components, a flying base and two flying stems with which to make either a Ravenwing Darkshroud or a Land Speeder Vengeance.
Description

A strange fate binds Roboute Guilliman, Grand Master Voldus and the Fallen Angel Cypher together. They walk a path of providence; though whether it ends in damnation or deliverance, none can say. On the battlefield, this triumvirate of warriors is an unstoppable, inspiring force, bolstering the morale of those they lead while shattering enemy lines with their staggering strength. Cypher's pistols roar as Voldus' psychic powers lash out – all the while, Guilliman strides like a reborn god, bellowing rallying cries and striking down countless foes.
This multi-part plastic kit contains the parts necessary to assemble the Triumvirate of the Imperium, 3 miniatures representing the formation from The Gathering Storm: Rise of the Primarch.

Included:

Roboute Guilliman – Primarch of the Ultramarines – clad in the Armour of Fate, adorned with Ultramarines and Imperial iconography and featuring a splendid ceremonial halo, he wields the Hand of Dominion and the Emperor's Sword (yes, the Emperor's Sword). Supplied with a sculpted 60mm round base, featuring a broken Imperial Eagle.
Cypher – Lord of the Fallen – bedecked in archaic, makeshift gear appropriate to his renegade nature, his armour is retrofitted with parts from a variety of patterns – each part telling a story. He's armed with a modified plasma pistol, and carries a particularly interesting sword on his back… Supplied with a Citadel 32mm Round base.

Grand Master Voldus, Warden of the Librarius – clad in ornate terminator armour, bearing marks of the Grey Knights, he is armed with the Malleus Argyrum – an ancient Daemon hammer that acts as a conduit for his psychic energies – and a storm bolter. Supplied with a Citadel 40mm Round base.
Description

The air screams as Magnus the Red descends from the skies, and stone runs molten beneath his shadow. Cyclopean son of the Emperor of Mankind, his very presence is anathema to logic. To look upon him is to surrender sanity, and when the Crimson King gazes back, destruction is loosed in unimaginable measure. Second only to the Emperor in terms of psychic ability, he rends asunder reality with a sweep of his blade, annihilating even super-heavy vehicles with the sheer intensity of his ire. Then, with a flex of mighty pinions, Magnus the Red is borne aloft, glorying in his unnatural power as he brings fresh calamity to the weaklings who oppose him.
This multi-part plastic kit contains the components necessary to assemble Magnus the Red, Daemon Primarch of Tzeentch. An imposing winged model whose size is appropriate to his power, he comes with a selection of 3 different faces (cyclopean, open helm and closed helm), is clad in armour dating from before the dark days of the Horus Heresy and has an array of modelling options: accessories include magical tomes, scrolls and daggers. He's armed with the frankly ostentatious Blade of Magnus, modelled as a choice of glaive or sword. Supplied with a Citadel 100mm Round based, and a crushed Space Wolf Dreadnought for a base detail!
Description

Casting vindictive glares at their enemies and blasting them apart with mystical fire, Blue Horrors are as resentful and bitter as their pink cousins are gleeful and capricious. Muttering glumly, Blue Horrors cast azure flames from their fingertips, stomping and protesting as they do so. Should a Blue Horror be slain, it groans and flashes into flame as a pair of Brimstone Horrors replaces it.
This multi-part plastic kit contains the components necessary to assemble 10 pairs of Brimstone Horrors of Tzeentch. Tiny creatures of pure malice, they caper about on their bases just as you would expect those made of fire to do. Also included are the parts you need to make 10 Blue Horrors of Tzeentch. Eyes full of fury and large mouths full of teeth, some pose with their talons outstretched to hack at their foe, others wield magical flames that dance about their fingertips. Covered in decorations, jewellery and feathers, they also include flames for their bases.

This kit comprises 40 components, and is supplied with 20 Citadel 25mm Round bases.
Description

The Leman Russ Battle Tank is the main battle tank of the Imperial Guard armies, a heavily armoured and powerfully armed war machine renowned across the galaxy for its deadliness and durability.

One of the hallmarks of the Leman Russ is the versatility of its hull – with relative ease it can be refitted to field a number of variant tanks such as the Leman Russ Exterminator or Vanquisher.

This box set contains one multi-part plastic Imperial Guard Leman Russ Battle Tank. This 95-piece kit can be assembled as a Leman Russ Battle Tank, Eradicator, Exterminator or Vanquisher. Also included are plenty of alternate weapons and wargear options, and a sheet of Imperial Guard water-slide tank transfers.
Shadowsword $140 (Already Sold Out)
Description

The Shadowsword mounts the largest and most powerful weapon in the Imperial arsenal – the dreaded Volcano Cannon. Nothing can stand against a direct hit from this, even Titans baulk at facing them on the battlefield.

This model kit allows you to make the Shadowsword tank as described in the Apocalypse rulebook. The sponsons can be armed with either twin-linked heavy bolters, or twin-linked heavy flamers. The turret is equipped with the Titan killing Volcano Cannon, of which range is no obstacle. Just in case that's not enough firepower, there's a twin-linked heavy bolter mounted on the hull.
Aerials, artillery shells, smoke launchers, searchlights, tools, name plates, pintle-mounted heavy stubbers, and a co-axial autocannon are all available as additional modelling options. On top of this you also get 3 optional turret-mounted crew who come with a variety of heads, arms and weaponry, allowing you to make an officer, driver or gunner (of course you can always glue the turret shut should you wish). And finally, there are enough parts for you to make an Imperial Guard officer on foot as well.
This plastic kit contains 295 components (no, that isn't a typo) to make an Imperial Guard Shadowsword. Alternatively, you can also make a Baneblade, Banehammer, Banesword, Hellhammer, Doom Hammer, Stormlord or Stormsword super-heavy tank using this kit. Also included is 1 Transfer Sheet which can be used to add markings and insignia.

This kit comes supplied unpainted and requires assembly – we recommend using Citadel Plastic Glue and Citadel Paints.
These models are all what most people are trying to get their hands on right now, and they are already starting to sell out. If you've been thinking about getting any of these you might not want to wait too long, there's no telling when they'll be back in stock. Head on over to Games Workshop and pick up your favorites before they're all gone.
Do you think something should've made the top 10 list that didn't? Let us know in the comments below.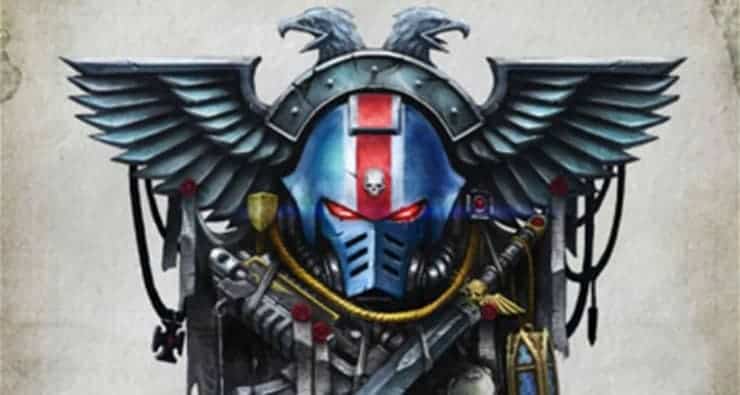 Spikey Bits Latest
Latest Long War Podcast - Listen NOW!