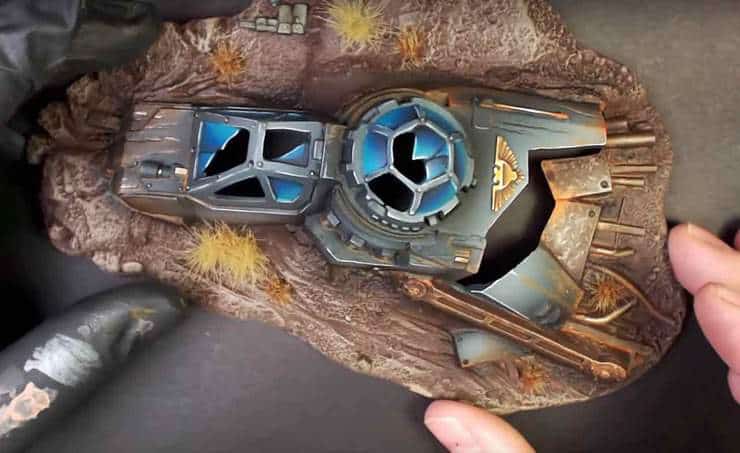 Welcome back hobby maniacs!  Today Kenny Boucher is here to show us some amazing new weathering paints from our friends over at Secret Weapon!
Kenny is showcasing Wave Two of the amazing new Technical Acrylic line from Secret Weapon Minis, that contain some awesome new paints for weathering just about anything on the tabletop.
First up is the amazing Dark Iron, this is a great paint to start with if you're looking to paint up some old busted and pitted metals.  Its consistency and coverage is great requiring zero thinning to apply a nice clean coat.
The perfect follow up is the amazing new Engine Metal, this is the choice dry brushing paint for worn, but well maintained metal components.
If you're a fan of realistic tones in your weathering, Engine Rust is for you!  This is a light, almost pink shade perfect for minor corrosion and rust effects!
Orange Heat is the go to for the more dramatic and cartoony color pallets we've come to expect on our Warhammer miniatures.  This is a bright vibrant rust color that really stands out alongside metallics!
Engine Grime is one of Secret Weapon's new weathering colors, this killer paint is a warm grey color and is perfect for grimy engine hoses and build up around mechanical bits!
Old Oil is exactly like it sounds!  This amazing new weathering wash contains bits of metallic flakes and dries as an oily stain.
Fresh Oil is one of the new gloss washes, be sure to apply it after you've matte sealed your models because this needs to dry glossy for maximum effect!
Engine Fluid is a nice unnatural blue color, perfect for leaking coolant supplies or other nefarious chemical leaks, it dries with a gloss finish lending the appearance of a fresh leak.
You can purchase these amazing paints from the Secret Weapons Miniatures website.
Check out the whole video in the link below for more details and Kenny's thoughts on each of these awesome paints!