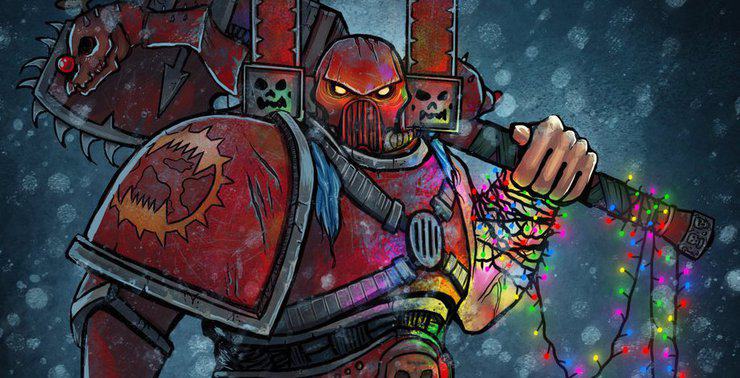 Rejoice hobbyists longing for army bundle deals from 40k and Age of Sigmar, for lo new army style box sets have just been spotted. Come see the latest offerings.

Hot on the heals of the new Citadel Christmas Catalog offerings, this was just spotted on Well of Eternity's Facebook page. Let's take a look at the faction bundles that may be available for this Christmas.
The only thing we can tell for sure from these is the pricing, which appears to be $170 US. Judging from the page layout there may be more offerings opposite on the left, not pictured, however that is just pure speculation at this time.
The layout and formatting also appears to be similar to the pages seen in the White Dwarf this month as well (above) leading some to further speculate that these faction bundles are from a separate Holiday catalog that most retailers get around this time each year.
Here is the Well's breakdown of the new AoS sets:
What's in the boxes?

Kharadroni 16 models:

Arkanaut Frigate
Gunhauler
3 skyriggers / skywardens (yes, they can brag about more than once per turn and yes, in a box you will find only one grapnel)
10 Arakanauts
1 Arkanaut Admiral

Stormcast Eternals 32 models

1 Lord Aquillor
3 Vanguard Palladors
6 (3) Vanguard raptors w / aetherwings (?) Ie 6 crossbow and 6 aetherwings
10 Vanguard Hunter
6 Gryphounds (?)

Here's a problem with what you do not see on the box;) so it's the least sure shot

Disciples of Tzeentch – 47 models!

1 Shaman
6 Skyfires
20 Arcanites
20 Tzaangors (?)

Grand Aliance Death 34 models

1 Mortarch
2 Harbingers
1 Wight King
20 Skeletons
10 Tomb Guard (?) Or possibly 30 skeletons … but that's unlikely
All in all this year's catalog is looking packed with tons of great deals. There's so many choices to meet your current needs. Makes sure you check back in with us as we get closer to the holiday season for updated prices and pictures of hopefully even more deals coming our way.
What do you think about the latest holiday bundles? Is there anything you're planning on picking up for the hobbyist in your life? Or are you planning on treating yourself to a little something extra? Let us know in the comments below.