The big guns win the day for Victoria Miniatures. These Auto Cannon Batteries will cover your advance on the way to victory!
Multi part Auto Cannon for 28mm troops, adding some serious punch to your Artillery and Heavy Weapon batteries. Supplied with 60mm round plastic base.
These Auto Cannons would look great in any Astra Miliatrum style army. Cover your troops with heavy weapons fire from Victoria Miniatures!
Auto Cannon! Auto death dealing!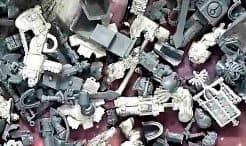 Spikey Bits Latest
Latest Long War Podcast - Listen NOW!