Big Knight savings are back for 2018! Check out some giant robot action in our new Imperial Knights Renegade Game Box Set review.
Start your plasma reactors and fire up your Reaper Chainblades for today's unboxing of the new Imperial Knight Renegade box set!
The new Knight game is here, and along with it another great "bundle deal" from Games workshop. Inside you get one Knight Warden and one Paladin plus a galvanic thermalvent terrain to use for the game as well.
Overall you save about 48% off normal MSRP with this bundle, and you get a new datasheet for the Renegade Knight (minus points).
If you've been on the fence about picking up some Knight models, it may too hard to resist this deal for sure!
It's the second generation in as many years, and we are so excited about this cool set. In our review we compare and contrast the new version to the old.
Get yours for less from Miniature Market
Put yourself at the controls of a rampaging Renegade Knight – or the valiant Imperial avenger – in this boxed game containing everything you need to pit 2 towering Imperial Knights against each other in single combat. Included in the box:

– 2 Imperial Knight kits, with 1 Knight Warden upgrade frame: with these you can build the Red Might and the Litany of Destruction, with weapon options including gatling cannon, heavy flamer, heavy stubber, reaper chainsword, battle cannon, thunderstrike gauntlet thermal cannon, and ion shield, along with plenty of options for customising the faceplates and armour;
– A Sector Mechanicus Galvanic Magnavent: a scenery piece for the Knights to battle over, made up of 4 frames of plastic components – one featuring the central silo and chimneys, one filled with walkways, one filled with floors and details and one featuring the legs to hold the structure aloft;
– a 24-page softback book containing the tragic tale of the Living Litany and its fall to Chaos, the Imperium's attempts to stem the tide of carnage it embarked upon and their dispatching of the Red Might from House Taranis;
– Rules for playing Imperial Knights: Renegade, featuring 6 missions;
– Colour schemes for 4 Questor Imperialis houses, 3 Questor Mechanicus houses, and 4 Freeblades;
– Rules for using Knights in games of Warhammer 40,000, including datasheets for a Knight Paladin, Knight Errant, Knight Gallant, Knight Warden, Knight Crusader, and Knight Renegade;
– 2 reference sheets, 1 each for the Red Might and the Litany of Destruction, featuring weapon summaries, damage tables and a reference grid for tracking damage taken;
– 2 6-sided dice and a transfer sheet for each Knight.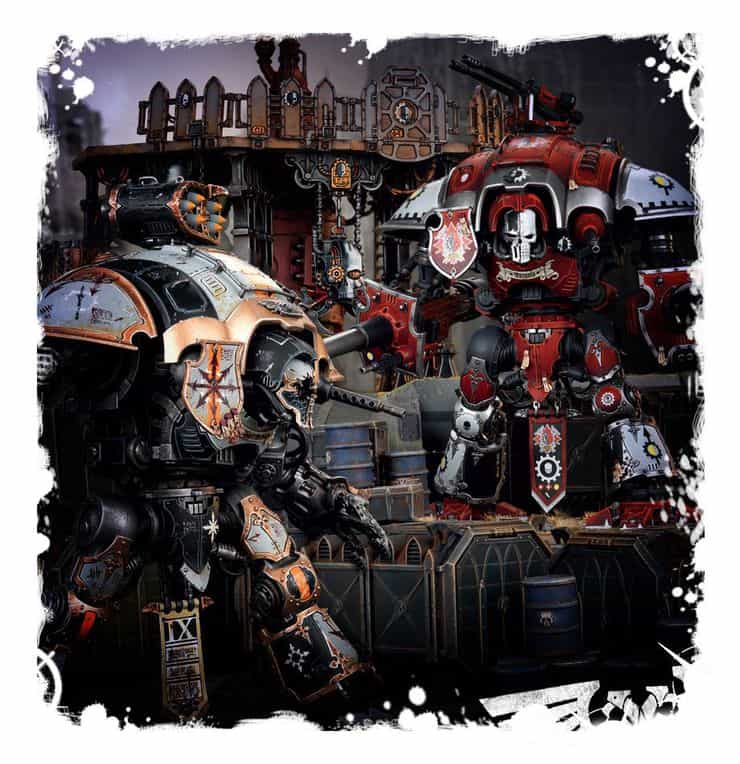 Savings-wise here is the breakdown:
Knight Crusader: $157 
Knight Errant $140
Galvanic Thermalvent $75
MSRP Total: $372, Savings: $177
Let us know if you'll be grabbing this awesome set! Be sure to press play on the video below and get the full review.
Spikey Bits Latest
Latest Long War Podcast - Listen NOW!