Come and see the what's new for X-Wing 2.0 as we take a look at Lando's Millennium Falcon Expansion for the Scum and Villainy Faction.
Today we get to peek inside of the new Millennium Falcon Expansion for X-Wing 2.0 and this time the Scum get access to this iconic ship. Or should I say two ships? That's right kiddies this new ship has the Detachable escape craft that docks.
Lando's Millennium Falcon: It Docks! X-Wing 2.0 Unboxed
Let's dive into this epic Star Wars unboxing.
Get Yours For Less From Miniature Market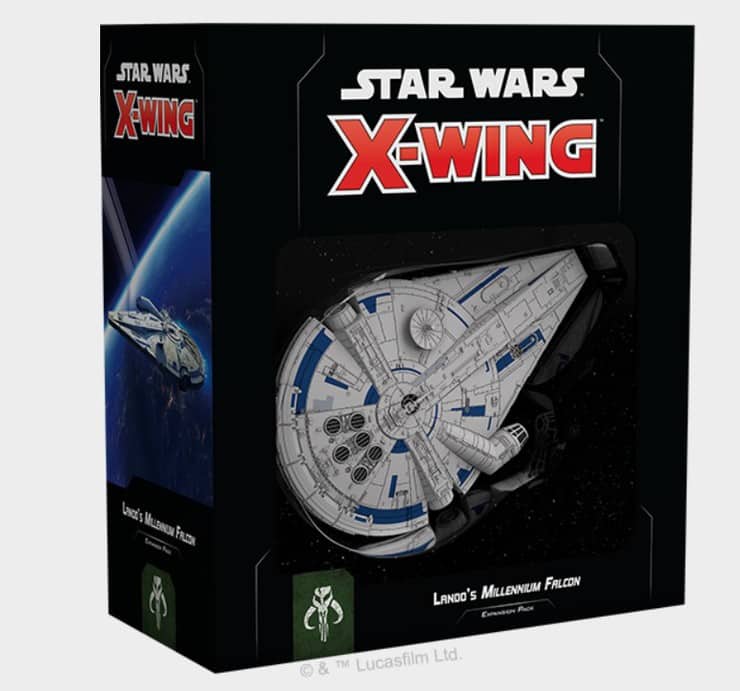 The Lando's Millennium Falcon Expansion Pack contains a fully-assembled, pre-painted customized YT-1300 light freighter miniature, including a detachable Escape Craft miniature that can be piloted as a separate ship. In addition to these miniatures, you'll find eight ship cards featuring classic characters like Han Solo alongside new faces like the droid revolutionary L3-37, as well as thirteen upgrade cards to further customize your version of the Falcon or your other second edition ships. Rounding out the pack are all the tokens, bases, and maneuver dials you need to add the Falcon and its Escape Craft to your squadron.
This new Expansion is packed with everything you need to add this ship to your X-Wing collection. Including new pilots and upgrade cards.
Probably one of the most exciting aspects of this new expansion is the addition of the docking escape pod. This additional ship also comes with its own stand, pilot cards, and accessories need to add it to your game of X-Wing 2.0
Here we see this new ship besides the original Millennium Falcon. Of course, there have been many modifications to the ship over the years by Han and Chewy Side by side you can see that they have the same size profile in the game.
Here we have the new pilot cards that you will receive in this X-Wing Expansion. Not only do you get Lando, you also gain access to the first Han Solo Pilot card for the Scum and Villainy faction.
What X-Wing Expansion would be complete without the upgrades? Take a look at all the upgrade cards that you need to get the Lando's Millennium Falcon Expansion on the table and start dealing damage for whoever pays the most.
This new ship is going to be a must-have for Scum players in the X-Wing Second Editon. Make sure you check out our full Lando's Millennium FalconUnboxing Video below!
Spikey Bits Latest
Latest Long War Podcast - Listen NOW!