Don't miss a truly amazing one of a kind display towering nearly 2 feet tall, that showcases a superbly painted Alpha Legion army.
Coming from White Metal Games, this Horus Heresy Legion is just as much a work of art as it is a playable faction on the table. Let's check out what Alpharius decided to bring in this Army Showcase.
The Alpha Legion are notoriously known for stealth and trickery. However, it looks like they decided to strike back and not keep anything out of sight.
The Alpha Legion Lashes Back
It seems Alpharius had some kind of secret hideout on a waterworld after all. There are old sandstone ruins of a Hydra lair scatted about the diorama and even an Anti-air buoy to keep the "undesirables" away.
A metric ton of resin was harmed in the making of this diorama. In all reality, the blue water effect mixed with the rich color of the Alpha Legion's armor just makes everything pop.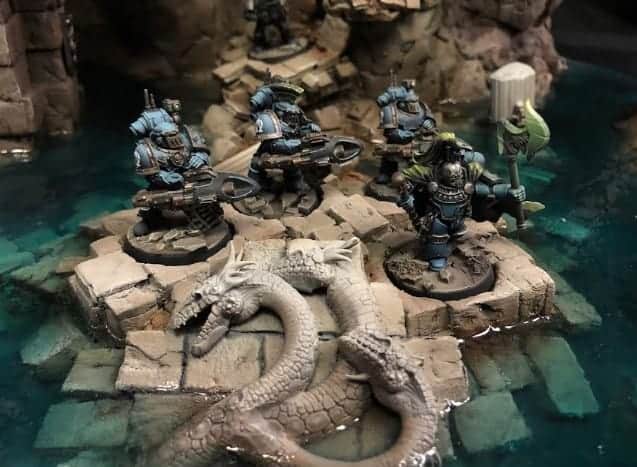 A lone squad of Rocket carriers is standing at the front door ready to greet someone with a hail of Krak missiles.
Check out the close-up detail of the Rhino. Have you ever seen scaling on a Tank like that? It's even on the radar panel! It's above and beyond detail like that which brings an army to the next level.
While there are a few guys at sea-level, a Contemptor and his Lascannon-wielding buddies are keeping an eye out from above. Oh and don't miss the sniper that's been watching you approach for miles already.
Even though they're at a desolate hideout, there's still a Knight chilling up top. It makes you think the Alpha Legion wasn't trying to be too secretive about things after all.
With the most important Alpha Legionnaire on the field (Alpharius), you better believe he's coming with his entourage. The glow effect on their power weapon really brings the models to life.
And last but not least, there's a Land Speeder flanking around the side to top everything off. Bet you didn't expect a Heavy Bolter to strafe by at high speed! 
The amount of time and hard work that went into this diorama and its models is astonishing. Only a die-hard Alpha Legion fan is worthy of taking something like this to an event! Another fantastic job by the White Metal Games crew.
Get custom commission work by the White Metal Games team!
What do you think about this masterpiece? What are some of your favorite Alpha Legion units? Let us know in the comments of our Facebook Hobby Group.