Three years after cracking down on online sellers, Privateer Press is getting a new familiar name as CEO. Bob Watts is stepping in to help the company.
Privateer Press is responsible for bringing the popular games known as Warmachine, Hordes, Monsterapocalypse and more to the gaming world.
Three years ago they cracked down on what they called "free riders" that were deep discounting their merchandise online with no physical store presence.
In a letter sent out to retailers back then, Privateer Press President Sherry Yeary remarked:
"Over the last eleven years… online retailers with nearly no overhead and very little meaningful contact with our audience have been undermining the stability of the market by selling product at discounts well below retail value, depending solely on the efforts of our brick and mortar partners who offer services that nurture our audience and grow the market to move their product,"
"This model of business is widely recognized by experts and the justice system as 'free riding.' While this can be a viable business model for many mainstream products, it is common knowledge that in our industry it's crippling and anticompetitive."
Three years later, with rumors flying of slumping sales, and multiple staff departures later, Privateer Press has just named Bob Watts the new CEO of the Company!
If you didn't know it, this guy is packing some serious credentials. He has forty years of game experience under his belt and has served as CEO/Vice President to major companies like Wizards of the Coast, Sabertooth Games, founder of Heartbreaker Hobbies, and even as President of Games Workshop North America for a year in the 1990's.
Bob Watts joins Privateer Press with 40 years of experience in the gaming industry. He started his career as a metal miniatures caster and worked his way into management in charge of sales, marketing, R&D, and the opening of new production facilities in the U.S. and abroad for multiple companies. Over the years, he has served as CEO & Founder of Sabertooth Games (LotR CMG, 40K CCG), Vice President of Wizards of the Coast (M:TG CCG, Dungeons & Dragons RPG), President & Founder of Heartbreaker Hobbies (Warzone, James Bond CCG, DoomTrooper CCG), President of Games Workshop North America (Warhammer 40K), and most recently as the President of Cerberus Entertainment, overseeing the production and sales of Privateer Press products in the EU.
Why Bring in a New CEO?
Privateer founder and CCO Matt Wilson had this to say:  "We've been waiting for the right opportunity to work with Bob as a more intrinsic part of our organization," he said.  "Besides the positive direct working relationship we've had with Bob over the past 15 years, his background in all aspects of the business – design, sales, production, and logistics – makes him the perfect person to develop Privateer's business to the next level in ways that we could not have achieved before."
In his new role, Watts will oversee daily operations and the company's future development, with  Sherry Yeary remaining as Privateer President, and Matt Wilson as Chief Creative Officer.
Bob Watts said, "Privateer Press is a company full of talented people who design and produce great games and miniatures. It is a privilege to be asked to join this industry leader and to be part of the continued success with the present portfolio of products, along with new opportunities that lie before us."
What you won't hear on another website that has an advertising deal with Privateer Press, is that move seems to come at a time with many retailers may be dumping their stocks of Privateer Press merchandise.
Miniature Market, along with other gaming webstores like TheWarstore seem to be selling off their Privateer Press-created merchandise, with some prices 90% off their original pricing. What could provoke such a deal like this where the stores are only making a fraction of their money back?
It could be that players started to abandon ship a while ago and now, the repercussions of a chunk of the community quitting are finally being felt. The product just may not be moving as much.
Regardless, they definitely called in a heavy hitter by putting Bob Watts in charge.
Word on the Street:
Of course, Redditors took to the internet and started discussing everything as soon as the word dropped.
Here's what one Redditor had to say: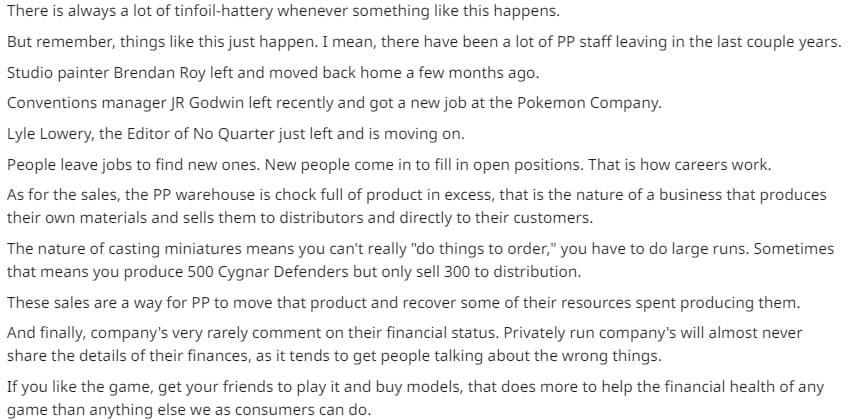 And another commented:
Ultimately, there's a new CEO in town. He definitely has the experience under his belt to get the ball rolling in the right direction for the company (if it wasn't already). Looks like we should definitely keep our eyes peeled for what happens in the coming months, as Bob Watts gets started doing great things for the company!
All hobby ships rise with the tide!
What do you think about Privateer Press's move? Are you a diehard Warmachine/Hordes player? Do Privateer Press's game have a lot of support at your local stores? Let us know in the comments of our Facebook Hobby Group.