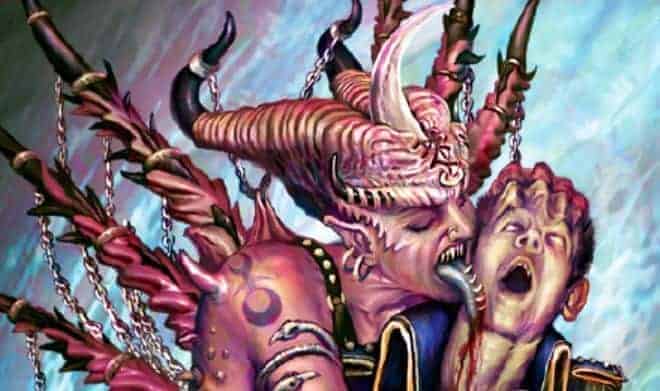 It's happening! A new Keeper of Secrets and tons more new models for Slaanesh are on the way! Check out what's in store for the god of excess!
WarhammerTV dropped a video teaser of Slaanesh earlier with the dark prince himself speaking. Keep in mind that this is set in the Age of Sigmar. He's been chained up in a dimension outside of reality being held captive. Could he be breaking free?
The Dark Prince Stirs
In this video preview, it shows Slaanesh bound by the powerful magic crystals keeping him in place. He says "The chains are slipping" and starts to go over what all of the forces are doing in all the realms. It sounds like Slaanesh was standing in his confinement biding his time until the perfect moment. That moment is coming soon.
The Chains are Slipping…
New Slaanesh Models Previewed at Adepticon
Slaanesh's battletome has officially been announced! The Dark Prince is tired of being chained down. He's coming back into the realms in a very big way.
New Keeper of Secrets Model
At once monstrous and beautiful, the new Keeper of Secrets is one of the most striking and unusual Warhammer miniatures ever designed. Drawing on decades of art and lore, this model manages the nigh-impossible task of creating a creature that's both terrifying and alluring. Sinuous, elegant and predatory, it's the epitome of everything fans love about Slaanesh.
The new Keeper of Secrets model is absolutely loaded with detail and it's definitely a welcome update for the Slaanesh players.
More New Slaaneshi Daemons
Syll'Esske – an unholy tag team of Daemon Prince and Herald.
Of course, a Keeper of Secrets wouldn't be enough to bring in a brand new battletome. They've got even more new models in store for the faction. Check out this Herald-looking model with a Daemonette prancing around him.
The Masque of Slaanesh wouldn't be caught dead in public without looking fabulous! Take a look at the detail packed into this model.
Looking at the next model, can you see a few rumor engines sprinkled in? What rules do you think the portal will have? is it going to summon Daemonettes back into the game?
Endless Spells of Slaanesh
Slaanesh is notorious for being fast and hard-hitting. These endless spells coming to the faction are really going to spice the tables up. Could that be the hand of Slaanesh holding up this portal?
Reader Amon-Alex69 shared his theory on new Slaanesh recently, just perhaps not as any of us would have imagined.
Check out what is on page 166 of the Age of Sigmar Rulebook:
"Silk-Clad courtesans… each wearing hideous masks and mock claws"
Sounds like Slaanesh may have some allies in the Mortal Realms, that are far from Daemonic… as of yet. Plus spoilers in the passage may seem to indicate even more new miniatures may be on the way as well.
Perhaps most telling is that fact that page 166, where this excerpt was taken from, contains the entry of the Chaos God Slaanesh for Age of Sigmar:
Slaanesh has definitely been one of the "overlooked" factions for a while. We saw Khorne get their battletome and finally Slaanesh! Thankfully, they weren't spread too far apart from each other.
Out of all the models previewed, which is your favorite? Do you have any ideas on what the endless spells will do on the table? Let us know in the comments of our Facebook Hobby Group.