Tired of sub-par Airbrush compressors overheating or dying on you? Check out the Tooty the no-name compressor that is far from beginner.
Are you looking for a reasonably priced air compressor for airbrushing or are you looking to get started airbrushing and are not sure where to start? Check out this Tooty Compressor by No Name on Spray Gunner's website. Big things do come in small packages and No Name has got you covered with compact, powerful, and reliable air compressors. On to the review of this fine product!
Warranty: 1 year
Specifications: 
Oil-Free Design
Compressor housing material: Reinforced Nylon
Auto-Shutoff at 57 psi (4 bar); Auto-Start at 43 psi (3 bar)
Compressor Regulator: 0-100 psi (0-7 bar) – Equipped with Filter and Gauge
3L air tank to provide consistent air flow (no pulsations)
6-foot power cable
1/6 HP
110 Volt
Air Flow: 20-23 L / Minute
Noise Level: 47 dB / 1m
User Manual
1/8″ connection
On/Off Switch
Suction Cups on the bottom for added stability
This compressor is suitable for commercial spraying, cosmetics, nail studios and Tattoo designs, illustrations, hobbies modeling, fishing lures and much more. The AS-316 is a great compressor at the price including a 3L air tank to help deliver consistent airflow and stop the pulsations that tankless compressors often deliver. 
Every NO-NAME Brand Compressor is INSPECTED and TESTED in our warehouse in Tampa, FL before going out to the customer!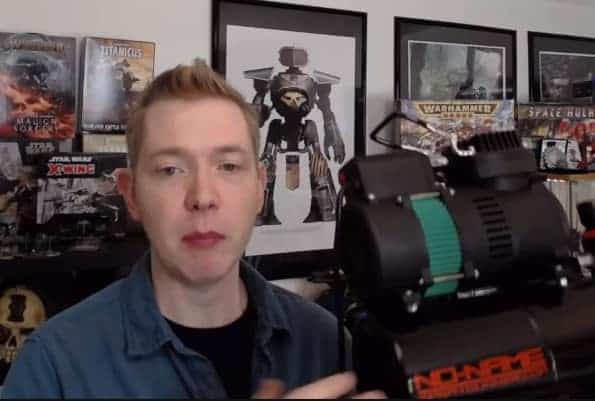 No lie, the aptly named Tooty Compressor is a great air compressor to pick up for your airbrushing needs. This lightweight air compressor has a ton of interesting design features that we will go through. First off while a generic version of an existing compressor setup, this has a newly-designed motor on it that has not been really seen before.
It also has a huge 3L air tank and won't kick on as much which is a big bonus as well. The heat sink on top can get hot so be careful, but using it's handle can prevent any issues if you have to move it when it is hot. Most importantly, this air compressor even has an on/off switch for ease of use.
Once its all hooked up and powered on, the airbrush is ready to go. A little comparison of the Tooty versus a higher-end air compressor is used to show the quality of the No Name brand. Passing a little air through the airbrush is all you need to do to give it a good test run. After checking the compressor, you can load up for paint and try out some base-coating. The key to remember in airbrushing is the angling, but those tips can be seen in some of our other videos!
Get started in airbrushing or improve your air game with the Tooty Compressor Spend less and get more for your hobby dollar with the Tooty Compressor that's great for all around use!
Compressor provided for promotion & review.  This post contains affiliate links, as an Amazon Associate Spikey Bits earn from qualifying purchases.