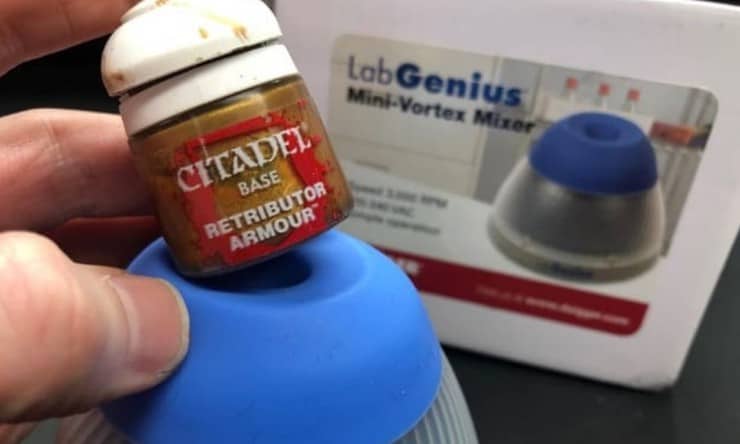 Tired of dried and clumpy paints? This heavy-duty vortex paint mixer shaker for miniatures is fun AF and busts most paint clogs!

We've tried out other mixers before and had been a little let down by the results. During our search for a better product, Rob was introduced to this mixer through another trusted company's social media page, Schooner Labs. Based on their glowing recommendation, we knew we had to give it a try.
The Vortex paint mixer shaker for miniatures paint did not disappoint!
We've had some time to use this thing now, and we love it. Today Rob is going to show us just how powerful the LabGenuis Vortex Mixer is!  With these little guys, you can also take your paint tech to the next level and dropper bottle all your Citadel / Games Workshop paints.
The most expensive mixer we tried, it's probably also the most durable of any we have tested- lasting for nearly three years so far at this point!
Right out of the box Rob picks up the mixer with both hands, this thing has some serious heft to it, more than you would think. The entire grey bottom layer is a metal plate. The top blue rubber piece may attract hairs and dust, but other than that this product appears to be super easy and simple to use.
Moving on to the mixing, it's activating just by applying pressure to the middle of the rubber top. It accomplishes a mix by trying to force the liquid in the container into a vortex motion, hence the name Vortex mixer.
Rob used some mixing aids from Army Painter which are just small metal balls that agitate and help mix better.
The mixer worked for every brand and type Rob used, thick and thin.  The price tag may be higher here, but quality and assurance are something that will always be a big deal! Click here to get your LabGenuis mixer / shaker for miniatures and wargames paints
This is about half the price of the LabGenius one Rob (check out Rob's video on how it has held up after a year here) has been using for a while now, but Buyer Be Warned there are no reviews as of yet, and ours came non-functional from Amazon.
People are often asking for a cheaper alternative and this doesn't seem too bad, however, we did not get a good mixers/ shakers for miniatures and wargames paints in the mail, unfortunately.
They didn't give specs on size but it probably won't make a huge difference in the types of paints it will work on as it seems big enough for most paints. Here are some specs on this:
With an intelligent sensing switch, the vortex shaker can mix most liquids in under 5 seconds at 5200 RPM. The sucker base will stay very well in place in use.

Made of high-quality ABS material with a chemical corrosion-resistant plastic body, which is safe, durable, and wear-resistant.
If you try this out let us know what you think! Now, let's check out some of the other products we've seen and used that were really helpful for us!
Seeing how this vortex paint mixer shaker "designed" use is tattoo ink, that should mean it works great for miniature paint too.
We have been using this one for a few months now, and it holds up to use so far! The best part is this vortex mixer shaker for miniatures and wargames paints is almost half the price! That is something we couldn't argue with!
This is slightly smaller than the LabGenius one, but not by much, so it probably won't make a huge difference in the types of paints it will work on. Here are some specs on this:
【Simple operation】easy to use, just put the sample to be mixed on the top of the machine. The surface of the agitator is smooth, compact and maintenance-free. The vortex mixer is small in size and easy to carry.

【Mix in 5 seconds】 110V-240V wide voltage design, more widely used. Excellent mixing ability can mix the most liquid in 5 seconds. Just place the sample to be mixed on the top of the machine.
【Anti-slip base】 The tattoo vortex mixer has 6 suction cups, which can firmly fix the vortex mixer in place during the mixing process, The rubber suction cups base will ensure that the mixer will not swing when it is working.
This has a 5-star rating with over 240 reviews, so you know this is going to work quite well! Rob will most likely order one to review it as well, that way we can see how it holds up during actual use!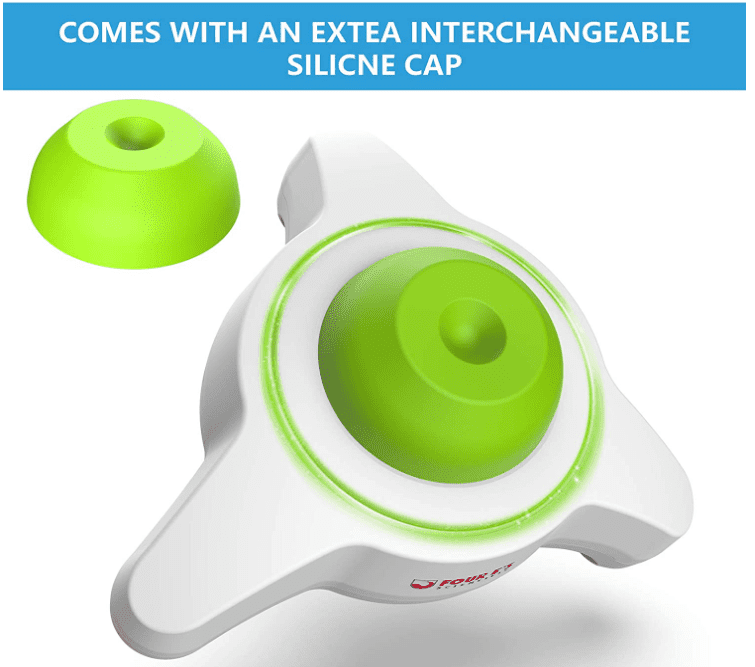 Here are all the specs on this one:
Strong Mixing Capability: Fixed speed of 5600rpm and orbital diameter of 6mm can activate full containers of 50mL to mix within 3 seconds. This compact vortex shaker works faster and efficiently to help mix liquid, is more convenient, and saves your time.

Stand Firmly When Mixing: The mini vortexer can stand firmly without dancing and moving when mixing. New design silicone foot pad help to hold the benchtop vortex mixer machine and ensure stability.

Work as Power Bank: The laboratory mini vortex mixer equipment has a USB interface which can charge mobile devices when plugged in and powered on.
With an Interchangeable Silicone Cap: Equipped with an additional original silicone cap, which is more adaptable and helps to extend the life of Mini Vortex Mixer.

Support Various Applications: The mini vortex shaker mixer is widely used as laboratory applications, school test tube agitator, hobbyist acrylic mini paints shaker, artists studio tattoo ink mixing, eyelash gel adhesive mixer, beauty eyelash extensions mixing, salons nail polish mixing, vortex glue shaker, essential oils shaker.
That does it for this one, and if you purchase any of these vortex mixer shaker for miniatures and wargames paints, let us know what you think!
This post contains affiliate links, as an Amazon Associate Spikey Bits earns from qualifying purchases.