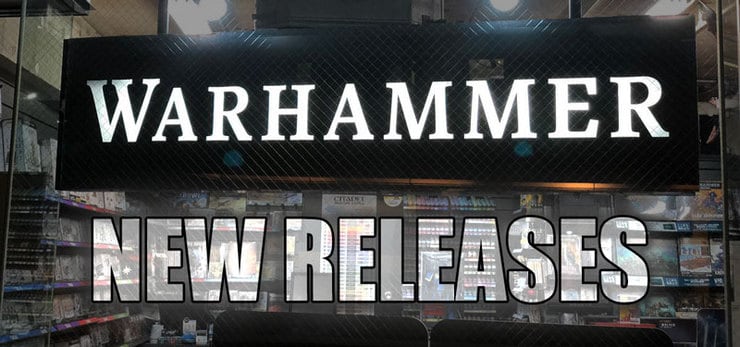 The new Adeptus Titanicus expansions, models, and info cards for LoTR Hobbit game are here, so don't miss what is available to order now!
Check out the latest releases from Games Workshop that for the most part is out now on store shelves and available for delivery from online sellers as well!
Get Yours For Less From Dicehead Games or Amazon!
CONTENTS
– An overview of the Defence of Ryza
– Background and Legion-specific rules for six Titan Legions: Honorum, Osedax, Crucius, Magna, Vulturum and Mortis
– Four new maniples to use in your games
– Background and rules for six Knight Houses: Sidus, Taranis, Zavora, Morbidia, Ioeden and Oroborn
– Full colour examples of paint schemes and heraldry for Titans and Knights
– Six narrative missions based on the dramatic events of the story
– Three different allegiances for your Titan Legions, and four for your Knight Houses
– Rules for creating your own Titan Legions, including 16 Traits, 15 Stratagems, and 21 pieces of Wargear
– Battle Standards, Lance Standards and High Kings to expand your Knight Households
– New environments: Manufactoria, Plasmatic Infrastructure and Ryza Secundus
– 11 new Stratagems to use in your games
Get Yours For Less From Dicehead Games or Amazon!
This multi-part plastic kit contains the components necessary to assemble four Cerastus Knights for use in games of Adeptus Titanicus. Two of these war machines are Cerastus Knights Acheron, armed with Acheron chainfists and Acheron pattern flame cannons. The other two are Cerastus Knights Castigator, which each wield a Castigator warblade and Castigator pattern bolt cannon.
This kit contains 112 plastic components to build four Knights. Each of the lower leg assemblies is compatible with any of the upper bodies for more customisation.
Get Yours For Less From Dicehead Games or Amazon!
It's Runelord Brass in a can, and it's the perfect way to basecoat Necrons from the Szarekhan Dynasty quickly. In fact, it's ideal for basecoating ANYTHING that you want to be brass coloured.

Webstore Exclusives
This set of cards includes all 26 Stratagems from the Adeptus Titanicus expansion The Defence of Ryza, giving you a host of new tactical options for your games.
CONTENTS
– 15 Crusade Legio-specific Stratagem cards for use in creating your own Titan Legion (in conjunction with the rules in The Defence of Ryza)
– 5 Experimental Warfare Stratagem cards
– 6 Tricks and Tactics Stratagem cards
If you play an army of Good, an army of Evil or an army of Dwarves, these cards are perfect for keeping track of all of your models' profiles and any army-wide bonuses. Each pack also includes blank cards so that you can create your own heroes.
Indomitus and all the 40k 9th edition launch releases are here! What will you be grabbing in this batch of releases? 
Let us know in the comments of our Facebook Hobby Group, and make sure you enter the latest monthly giveaway for FREE today!  This post contains affiliate links, as an Amazon Spikey Bits earns from qualifying purchases.