In an amazing reveal during the Black Library day of Warhammer Fest, GW announced a new plastic Imperial Guard Gaunt's Ghosts kit!
It's time for another big online GW Preview for all things Warhammer! Here are the latest reveals from  Warhammer TV  and Warhammer Community!uard Gaunt's Ghosts
All next week, from Monday to Saturday, we'll be packing each day with reveals of brand new things coming to Warhammer, as well as hearing from some of the teams behind them. It'll be just like you're there in person, watching the panels live. 
Each day will be themed around one particular part of the Warhammer hobby, so check the schedule below and find out when your favorite games are coming up. Trust us when we say you'll want to see everything anyway – there are some spectacular reveals on the way.
You can tune in to Warhammer Community from Monday 3rd May to see all of the reveals as they happen from 6 pm (BST) onwards, or catch them live on Twitch.
They will have playable rules in 40k and are not going to be a limited BL release. They didn't say exactly when they are coming out, but it would make sense they line up with a new codex, so hopefully both come out before too long! But if Cursed City is anything to go on, you should try to get them in the beginning just to be safe.
GW Announces Plastic Imperial Guard Gaunt's Ghosts
This was honestly a little bit of a surprise, but a totally welcomed one! If you love the novels or the old minis, this is amazing news! While not every character is in the set, they all look great and can be taken in any Guard army.
Again, they also said it won't be a "limited release", but we'll see how that turns out when it comes to pass.
Gaunt's Ghosts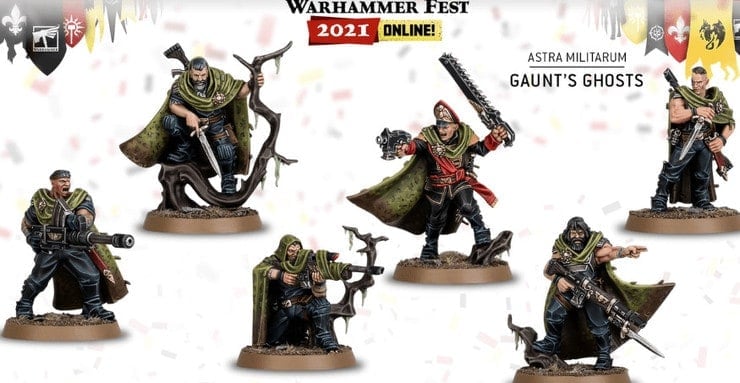 If you read any of the books, well, this is a no-brainer! The minis all look amazing and capture the essence of each character. It feels like a plastic kit for them has been a long time coming and we are super excited it's finally here. The Tanith First and Only have finally made the jump to plastic and 9th edition.
If you're not familiar, Gaunt's Ghosts are the protagonists of the long-running series depicting the trials and tribulations of Ibram Gaunt and his ill-fated Astra Militarum regiment. Faithful readers of the books no doubt have a soft spot for the original cast who served as their Colonel-Commissar's most trusted retainers. 
Well, they're back! They've been redesigned in plastic to create a reimagined set of miniatures that really brings each of the key characters from the early Gaunt's Ghosts books to life.
The Characters Included
Colonel-Commissar Ibram Gaunt
Sergeant Scout Oan Mkoll
Colonel Colm Corbec
Major Elim Rawne
'Try Again' Bragg
Master Sniper Hlaine "Mad" Larkin
This is honestly an awesome reveal and we'll definitely be picking them up! They didn't give any hints in the way of rules, but we assume they will be a decent addition to almost any IG force.
They also announced a ton of books all about the Sabat Wars, so we'll get even more background and stories surrounding the Ghosts!
Are you excited about the new sculpts? Will you be picking them up?
Let us know in the comments of our Facebook Hobby Group, and make sure you enter the latest monthly giveaway for FREE today!