Two new HeroQuest board game expansions for the base game are shipping now, here is the pricing and where to get yours! 
If you missed out on the original campaign in 2020, you can grab your own copy of the game and the expansions right now. Plus, we'll put the original game up first as well, that way if you haven't grabbed that yet, you can.  Both Amazon and Entertainment Earth are shipping out the base game and the HeroQuest expansions with great pricing to boot!
Available from Amazon (click here), or Entertainment Earth (click here) Both are shipping now!
The game itself is just so nostalgic and awesome! For the price you get a ton of stuff, it just looks like the only things you can't get that were in the project are the extra missions. Still, if you missed out on the initial project, this is just a really cool offering from Hasbro.
Here's everything you get with the box:
Includes gameboard, 31 monster miniatures, 4 hero miniatures, 15 furniture pieces, 10 skull pieces, 4 plastic rat pieces, 21 dungeon doors, 93 game cards, 4 turn-order cards, cardboard tiles, Quest Book, 4 character cards, Game Master's screen, pad of character sheets, 6 white combat dice, 2 red dice, and rulebook.
The game comes with 14 quests, and has limitless replayability because players can also build their own quests and create their own stories. Gather friends together for an exciting night of tabletop gameplay in an epic battle of good and evil. The game is for 2-5 players, ages 14 and up.
With so many quests and minis, this will for sure give you tons of play-through and enjoyment! Plus, games like this are always great to get people into the hobby and learn how to play RPGs without as much immersion as a normal game might take.
Get your expansions pre-ordered now from Amazon (click here) or Entertainment Earth (click here).
If the full game wasn't enough for you, this expansion has new models, cards, and more! Plus, the price isn't bad at all when you consider how much these were going for on the secondary market. Just remember, this is on pre-order but will be delivered in January. Here's everything you get in the expansion:
THE ADVENTURE CONTINUES: The cards and booklets feature incredible artwork that takes players' imaginations into a mysterious underground world filled with monsters, deadly traps, and more

ADD TO YOUR COLLECTION OF MINIATURES: This tabletop board game expansion includes 16 beautifully detailed unpainted miniatures. 8 skeletons, 4 mummies, and 4 zombies
Get your expansions pre-ordered now from Amazon (click here) or Entertainment Earth (Click here).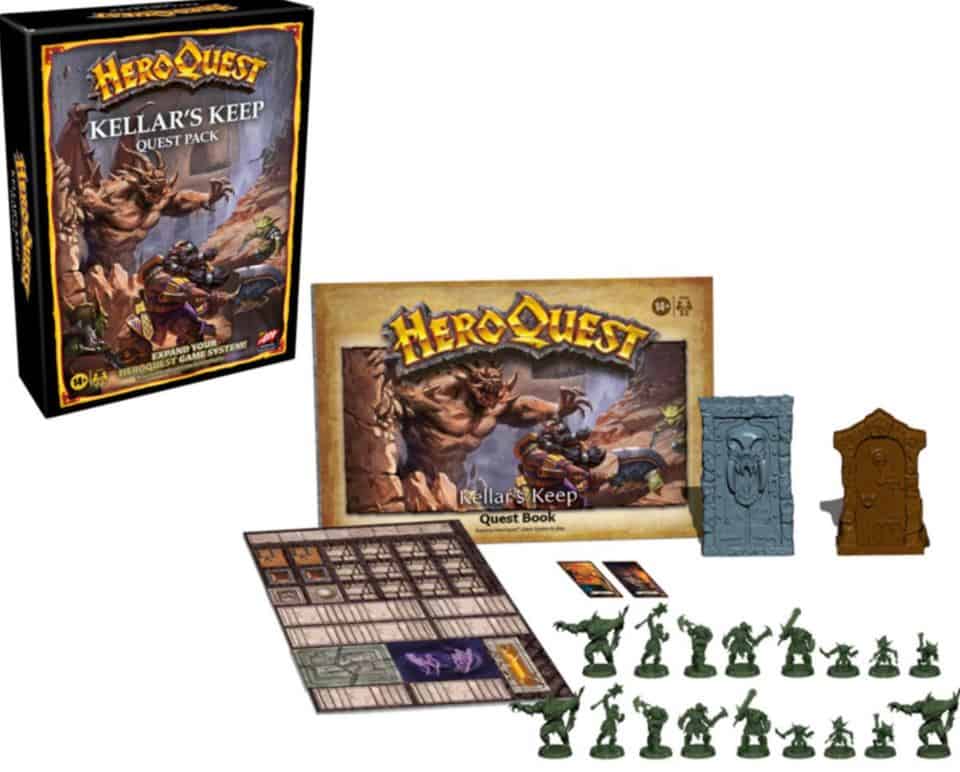 Again, just another awesome HeroQuest expansion! If you can't get enough of HeroQuest, then these are perfect. Here's everything you get in this one:
Includes Quest book, 17 miniatures (8 orcs, 6 goblins, 3 abominations) cardboard tile sheet, 2 dungeon doors, and 14 game cards.
If you still need the original game, check out the link below!
Hopefully, you jumped on the HeroQuest bandwagon early on like Haspil did and got yourself a Mythic Tier pledge. If not, hit that link below to scoop one up for a price that is nice!
Is the HeroQuest Board Game one of your favorites?  What class did you always play?
This post contains affiliate links, as an Amazon and eBay Associate Spikey Bits earns from qualifying purchases.