This Eldar Howling Banshee cosplay will leave you speechless- here are incredible pictures, behind-the-scenes, and a costume creation video!
With the new codex coming out, we wanted to take a look back at possibly the coolest Eldar cosplay we may have ever seen! It's pretty awesome that not only is there an awesome photoshoot with the costume, but also a really cool behind-the-scenes video on how it was made and just how much work goes into something this intense.
The videos come from Narga Aoki cosplay and over the past couple of years have kept the costumes coming! So if you love cosplay, they are an awesome page to follow as they are consistently pumping out great cosplays! Let's check it out.
Insane Eldar Howling Banshee Cosplay Will Leave You Speechless
Make sure to smash that Subscribe button on those videos and give them a thumbs up to show some love! You can also follow Narga's Facebook to see other cosplays they have done. The behind the scenes video isn't the only one we'll take a look at either! Below we'll also check out how they made it.
The attention to detail on this costume is pretty wild, as they almost made a perfect replica of what they could look like in real life!
They also spent plenty of time getting amazing shots that set the scene perfectly for the costume.
Now that we've seen the amazing shots of the costume, let's see how they made it!
Making of Eldar Howling Banshee Cosplay
It's pretty crazy this whole costume started with some paper like this. But hey, you have to start somewhere.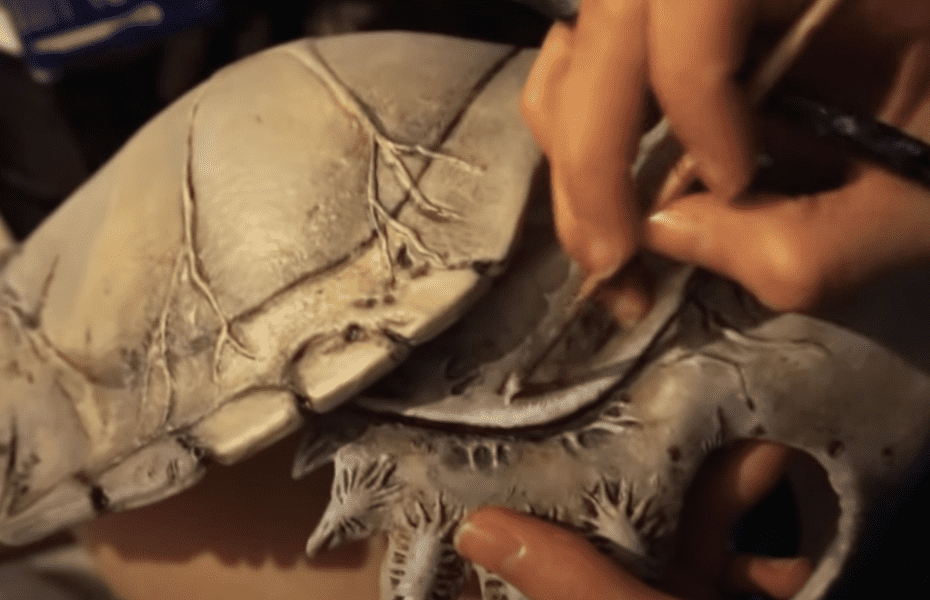 Once they start painting, the costume really starts coming together!
Let's hear what they have to say about the costume:
Making of Eldar Howling Banshee Cosplay from Warhammer40k Dawn of War III. This is my first video about costume creation and I want to do more! Thanks for watching. Subscribe!

It's took a month to create full outfit.
Materials used: EVA foam, Bubblestar (thermoplastic analogue of Worbla), styrofoam, acrylic colors, RustOleum spray primer, kanekalon for wig, acrylic silicone for gloves.

Costume,prop making, model – Narga

Saint Petersburg, Russia
2016
We can't wait to see what they have coming in the future!
Have you seen an Eldar (or any) cosplay this cool before? 
Let us know in the comments of our Facebook Hobby Group, or our new Discord server, and make sure you enter the latest monthly giveaway for FREE today! 
Get ad-free access to our hobby videos, a monthly drop of miniatures, and support some of the best creators out there for as little as $6 a month on Patreon!