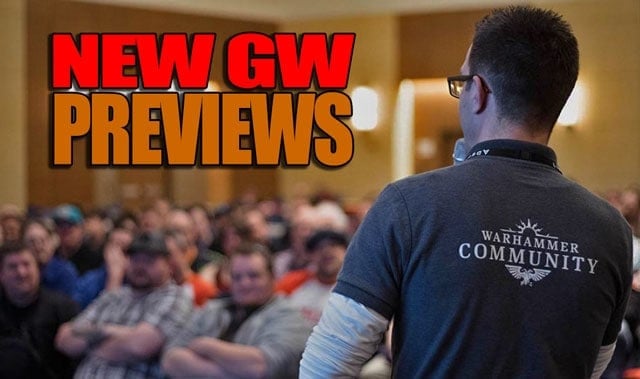 Games Workshop delivered with a ton of new Horus Heresy Models and reveals- check out everything from the Warhammer Fest 2022 preview!
With the HH portion of the event officially over, we saw a ton of models and what to look forward to in the future. It mainly focused on new plastic kits, but hey, that's what we all wanted!
All the New Rumors, 40k Models, & Reveals from Warhammer Fest 2022
As with last year, there'll be four full days of online reveals, each with a different theme. But Warhammer Fest has traditionally been an in-person event – and we'll be back in the flesh this year, with a huge Horus Heresy open day on the final day at Warhammer World.
The action kicks off on the 4th of May, with a day dedicated to Warhammer 40,000 – including more than a few unexpected surprises. Warhammer Age of Sigmar gets the treatment on the 5th of May, with new units, new battletomes, and new characters. Then the 6th of May is skirmish day – a treat for fans of more than a few Warhammer game systems.
It's good to see both AoS and 40k getting their own days because hopefully, this means tons of reveals along with Horus Heresy and Specialist Games.
Marduk Sedras
Sedras is one of the Dreadwing – a corps dedicated to the total annihilation of enemies, cultures, and even planets with terrifying weaponry – and one of the oldest Space Marines alive. He is a veteran of the Unification Wars who fought in the presence of the Emperor Himself, and inspires excellence in all Dark Angels who march under his banner.
This is a really cool model lore-wise and you actually get to play with a model that fought in the presence of the Emperor! This is a pretty cool little addition to the line. On top of that, they mention he will be plastic, so that means even most characters and heroes will all be plastic!
Horus Heresy Starter Boxset Has Been Revealed!
It's time to get excited! Even though we don't have an exact release date, it's a good time to be playing Horus Heresy for sure!
This is a complete game for two players in a box that's packed with incredible new miniatures. If you don't feel like sharing, it's a fantastic way to start or expand a new Warhammer: The Horus Heresy army! The miniatures are all plastic and much easier to build, making the game more accessible than ever before. (Who are we kidding, you're not going to share it…)
We've been waiting on this new Horus Heresy box for so long now, and seeing it finally confirmed by Games Workshop at Warhammer Fest is quite nice.
Getting this bad boy in plastic is going to be super awesome!
What else could you possibly need? A tank? A transport? Why not both? The Spartan is bristling with lascannon arrays and can transport up to 26 Space Marines in power armour. This is the first time this mighty tank has been available in a plastic kit.
You also get templates, measuring sticks, dice, and the new rulebook for Warhammer: The Horus Heresy – which you'll be able to buy separately soon after the boxed set is released. The rules have been updated and improved, perfect for a time of Titans, Primarchs, and Legions of superhuman warriors.
It wouldn't be a proper starter without all this stuff! Plus, getting the templates is nice if you haven't played before or haven't played 40k since the age of templates.
You won't have long to wait to get your hands on this unbelievably packed boxed set, and while we can't reveal full details of pricing, we can confirm that the set will cost less than £200 or $300 (US) when it launches. That's a lot of Beakies for your bucks…
While they don't give us an exact release date, we can start guessing at the value! Check it out below.
Rumored Horus Heresy Starter Value
There are two big things to note first. We don't know the prices of the individual kits 100%, so this is as close as we can get for now. Also just to note, these are all going to be priced in plastic, with estimated pricing compared to the latest price increases.
40 Mark III Space Marines

$220

($55 for 10)
10 Cataphractii Terminators $140

($70 for 5)

Contemptor Dreadnought $70

(based on the Redemptor kit)

Characters

$55

(based on the Space Marine Characters pack)
Spartan

$110

(drop from resin based on the Repulsor Executioner price)
Rulebook and other potential accessories

$50
Total MSRP: $645 not counting  accessories  Confirmed Box Price: <$300
Total Values versus box price: at least $345 in value
So while the initial price is a little higher than we had hoped (but expected), this has some great value, and you get more than 100% of the box price in value. Plus, you just get so many minis!
This will be a great pickup if you want to get into the game.
Horus Heresy Special Weapons Packs
It looks like the rumored bits we saw are all coming true and in plastic!
The Mark VI Tactical Squad is one of the most flexible kits ever. It's the lynchpin of your army – which you need to claim objectives and win games, and with the addition of these new weapon upgrade kits, you can transform it into Legion Tactical Support Squads or Legion Heavy Support Squads to really bring the hurt.
The Special Weapons upgrade set contains 10 meltaguns, 10 plasma guns, 10 volkite calivers, 10 volkite chargers, 10 flamers, and 10 rotor cannons.
This is honestly a ton of weapons, and it's so nice as you'll actually be able to arm your squads with the weapons you want!
Need to kill your enemies from further away? There's an upgrade kit containing 10 heavy bolters and 10 missile launchers.
Prefer fire, melta, and plasma weapons? There's an upgrade kit for you! It features 10 plasma cannons, 10 heavy flamers, and 10 multi-meltas.
Getting 10 of each is just so much better than worrying about what you're arming each model with. Let's just hope they are easy to magnetize.
Finally, there's an upgrade kit with 10 volkite culverins, 10 lascannons, and 10 autocannons.
New Horus Heresy Expansion Boxes & Rulebooks Unveiled!
First up are the two Legiones Astartes army books – one for Loyalists and one for the Traitors.* Each book includes the profiles for shared units, from heroic Praetors to armoured Contemptor Dreadnoughts, as well as weapons, special rules, and guides to building your Legiones Astartes army.
The Liber Hereticus contains rules for all nine Traitor Legions, including Rites of War, Primarchs, Legion-specific units and wargear. If you're of a more Loyalist bent, the Liber Astartes contains the same for the nine Loyalist Legions.
If you're playing the game, you'll obviously have to get these rules for the legions.
Got the rules but need some reinforcements? The Mark VI Tactical Squad will also be available separately. This kit is packed with options and makes 20 Space Marines, so you can muster either two 10-man squads or one big 20-man one. Good luck to any enemies who want to shift that.
Prefer older marks of power armour? The Mark III and Mark IV Tactical Squads are getting repackaged into units of 20, making it easier than ever before to fill out the ranks of your Legion.
New Characters
You'll also be able to grab a pair of classic heroes to lead your forces into battle. Fans of the VI Legion and the XV Legion will want to pick up these plastic character miniatures. Geigor Fell-hand and Azhek Ahriman were both originally available in the Burning of Prospero boxed set, but this is the first time their models will be available separately – and both heroes will have rules in their respective Liber Astartes books.
Plastic Kratos Heavy Assault Tank
We saw rumors, and some leaks of this quite some time ago, but it's good to see the Plastic Kratos Heavy Assault Tank is coming out for sure!
Eagle-eyed viewers of the stirring trailer for Warhammer: The Horus Heresy will have noticed something new for the Age of Darkness. If you were one of those people, award yourself five hobby points because you spotted the Kratos Heavy Assault Tank.
This tank is pretty awesome, and it has plenty of firepower to boot. Plus, it looks like it will be super fun to hobby on!
In terms of hitting power, the Kratos sits between the Sicarian and Fellblade, armed with a massive battlecannon, a volkite cardanelle, or a melta blast-gun – in other words, your choice of huge weapon to kill whichever type of unit might give the rest of your army problems. But what do these three new guns do?
Plastic Kratos Heavy Assault Tank Horus Heresy Rules
First up, the Kratos battlecannon offers a choice of shells. Need to kill a lot of enemy troops in one shot? Go for the high-explosive shells. Want to take out more heavily-armoured threats? Load in the armour-piercing ammo. Facing a massive enemy tank? See how it likes the taste of flashburn.
If you're happy to trade flexibility for sheer firepower, the melta blast-gun will give your tank a more specialised role – it makes the Kratos the bane of enemy tanks and transports.
Alternatively, if you want to chew through massed ranks of enemy infantry, you can go with the volkite cardanelle. This giant heat ray will merrily melt the flesh from their lightly-armoured bones.
We hadn't seen the weapons quite yet, so this is awesome! However, we've also seen rumored rules for the overall profile below!
You can see the guns are the same as they showed rules for, so we'd say these are pretty legit. One other thing to note, you have to pay for the third type of shell on the main cannon.
Deimos-Pattern Rhino (Mk1)
The Deimos-pattern Rhino was a common sight on the battlefields of the Age of Darkness, and a new plastic kit is on the way for this legendary vehicle.
Hot on the heels of the RTB01-esque Mark VI Space Marines comes the classic look of the Deimos-pattern Rhino. It will be easier than ever before to roll out a fully mechanised army for Warhammer: The Horus Heresy.
Finally having this kit in plastic is just awesome! Plus, who doesn't want more trusty Rhinos hanging around?
You'll notice that the plastic Deimos-pattern Rhino shares design cues with the Sisters of Battle Rhino, and you'd be perfectly within your rights to drive it around in Warhammer 40,000 – after all, a number of these venerable workhorses survived until the 41st Millennium. 
The kit comes with loads of options, including pintle-mounted weapons and wargear. The Rhino can be taken by any Legion, making it one of the best ways to get around whether you're a Loyalist or a Traitor.* It's similar (but not identical) to the Deimos-pattern Rhino from Forge World, and it will sit perfectly alongside your existing collection.
Plastic Sicaran Battle Tank Rumors
Next up is the Sicaran Battle Tank in plastic. This image was spotted before the Horus Heresy Warhammer Fest event, and we assume was leaked from the floor itself.
So while GW didn't confirm this, we've seen some solid rumors for it! There were some big clues about this moving to plastic (like being taken off the Forge World site), and we're happy to see it, especially considering the resin kit had some issues…
You can see below the resin versions have droopy treads and track guards- even in the stock painted model pictures from their webstore!
Happily, the leaked images above more or less indicate the Sicarian has moved to plastic. If you ever built one of these, you know how much of a hassle these old treads were, so we're really here for it 100%
RUMORS: Horus Heresy Releases June-September with Prices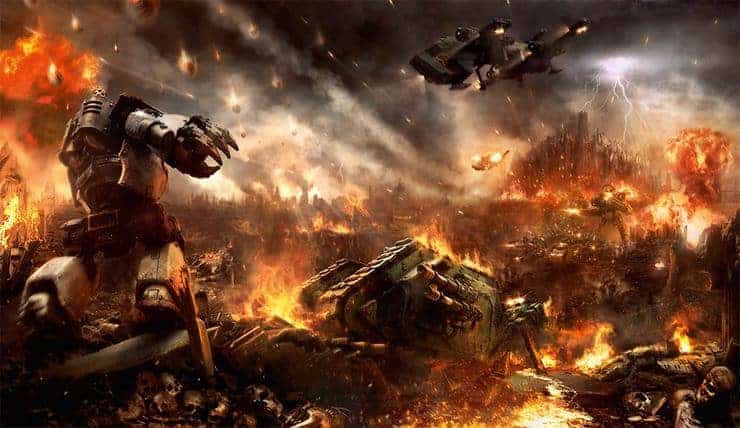 According to Faeit, these are the new Horus Heresy releases that we will see this summer! Keep in mind these prices seem a little low compared to some of their 40k equivalents.
Releases for June:
"Heta-Gladius" Launch Box: –

£240

Rulebook –

£43

Three Codex like compilation Books –

£32.50

each: Loyalists, Traitors, Other Age of Darkness Armies – Loyalists and Traitors
Releases for July:
Three different Starter Sets –

£180 /£100 / £40

each
Space Marine Legionary + Paints Sets (A + B) –

£23

each  featuring 3 Space Marines and 7 paints
Getting Started with Horus Heresy Magazine –

£10

Includes 2 Space Marine Legionaries
Releases for August:
Space Marine Legion Tactical Squad –

£36

10 Models multipart in the same fashion as the Chaos Space Marines
Common weapon options

Deimos 

Pattern Rhino –

£31

Space Marine Legion Praetor –

£22 

Not the same Model than was already shown
Releases for September:
Deimos 

Pattern Predator –

£39

Upgrade Sprue Sons of Horus –

£9.50

Upgrade Sprue Imperial Fists –

£9.50

Upgrade Sprue Blood Angels –

£9.50

Upgrade Sprue Emperors Children –

£9.50

Upgrade Sprue White Scras –

£9.50

Upgrade Spue World Eaters –

£9.50
Releases without date:
Deimos 

Pattern Vindicator –

£39

Kratos Battle Tank –

£52.50

Land Raider –

£52.50

Land Raider Spartan –

£60

Contemptor Dreadnought –

£35

Space Marine Tactical Squad + Rhino –

£57

Deimos 

Pattern Rhino Suqadron –

£87

Deimos 

Pattern Predator Squadron –

£107

Space Marine Auxiliary (details below)
From how this looks, there may be a pretty aggressive four-month path to market for the new edition of Horus Heresy starting in June of 2022.
If you missed the latest few previews from GW, you can get all caught up on those from our coverage below:
Click Gallery below for full-size images.
View Gallery: 183 Images
Here's the most up-to-date list of new Horus Heresy Rules & Product Leaks. Click on the gallery above to see new Horus Heresy models and rules rumors!
Are you excited about all the new Horus Heresy miniatures?
Let us know in the comments of our Facebook Hobby Group, and make sure you enter the latest monthly giveaway for FREE today! 
Get ad-free access to our hobby videos, a monthly crate of miniatures, and support some of the best creators out there for as little as $6 a month on Patreon!