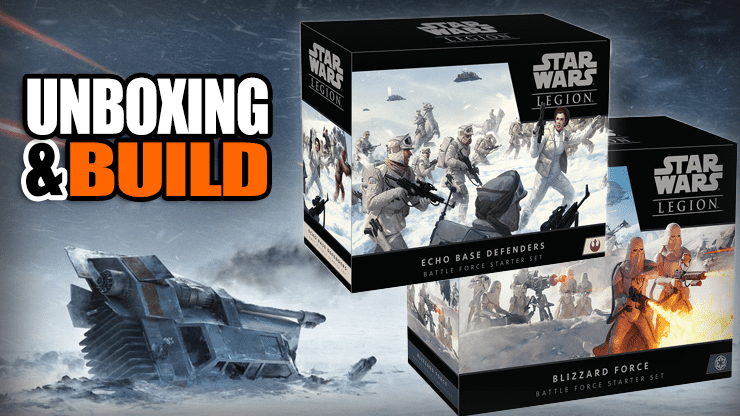 Don't miss our Star Wars: Legion Blizzard Force and Echo Base Defenders battle force unboxing and build of the latest release for the game!
In our latest unboxing, Rob looks at the newest Legion release. He'll see what it takes to get it ready for the tabletop, show the models' size, and tell you the GOTCHAS to be aware of when building them! 
We will show you everything, including the sprues, bits, and of course, the size. That way, you can decide if this is worth your hard-earned hobby dollars.
Star Wars: Legion Blizzard Force & Echo Base Defenders: Unboxing
Click here to get yours from these retailers:  Amazon | Asmodee | 
This is the first of the two boxes we'll be taking a look at, but we'll also break down the value for you as well below.
Click here to get yours from these retailers:  Amazon | Asmodee | 
You also need the rebels! We'll also have the value breakdown below as well.
Value Breakdown
Leia

$19.99

Chewbacca

$19.99

1.4 FD Lasor Cannon Team

$24.99

2 Tauntaun Riders  $59.98 

($29.99 each)

4 Rebel Veterans

$139.96

($34.99 each)
R2-D2 & C-3PO $19.99

(previously part of escape pod for $44.99)
Total MSRP: $284.90
Savings Versus Box Price: $134.91
For the price of the box, this is just a great deal! As you'll almost get double value.
Vader $19.99

(from core set)

AT-ST

$59.99

2 74-Z Speeder Bikes

$59.98

($29.99 each- core set versions) 
3 Snowtroopers Units

$89.97

($29.99 each)
Total MSRP: $229.93
Savings Versus Box Price: $79.94
Obviously, this doesn't have quite the savings as the box above, but it still has decent value for the price.
Echo Base Defenders Card Packs
You actually get a ton of cards in both boxes, and there's nothing wrong with getting your rules with your minis!
We haven't heard much about these, but all three are actually super useful if you are playing the echo base defenders.  You can get all the updated rules for playing the battle force armies from Atomic Mass Games website by clicking here
Sprues
It's nice they are doing more hard plastic sprues now, and the detail looks very crisp. Previously most kits were the softer PVC plastic, but were still easy to assemble and had good detail as well.
However, for a lot of the minis, they still do this type of packaging. Some stuff will get a little bent, but we've never really had anything broken; just be sure to bend everything back (with a little heat) that needs it before building.
Echo Base Defenders Built Minis
This Laser Cannon platform is really easy to build and looks awesome on the tabletop.
Rob has already started to get a little paint on these, but they are super fun to ride around the battlefield!
They size up well with Warhammer 40k minis, just to give you a small comparison.
The regular troopers build super easy, and you could be ready to go in like an hour or less for the whole box set.
Obviously, playing with all the named characters is fun, and they all look pretty good. This C-3P0 was primed with the new Army Painter gold primer.
Blizzard Force Cards
All the new cards in this set are up on AMG's site, and we've seen most of them in their separate box sets, but it's good to get them all in the battle force set.
Sprues
The walker comes in hard plastic like this, but since many of the bigger parts are already built, it's pretty easy to build.
Blizzard Force Built Minis
You don't actually have to glue all this down, but it builds super easily. However, with Ewoks coming out, it might be worthwhile not to glue it all down and throw some of them inside if you are up for a challenge!
A lot of the parts actually move on this model kit, which is just super cool.
Obviously, this is massive and makes the poor Space Marine look tiny.
Many of these have been released on their own, so Rob has a decent number of them painted up from older kits.
The troopers are only about three parts, so they go together in no time.
Final Thoughts
Overall, these all have decent value, and if you're looking to get into the game, these are worth a pickup!  However, they will have some overlap with the starter sets themselves, so just be aware you may end up with a few doubles of units.
Another thing that we may not have mentioned as much is that you can get the Star Wars Legion Essentials Kit that retails for $30, giving you all the rulers and tokens you need to play the game now without purchasing the starter set.
After seeing this unboxing review, will you be picking either of these up?
Let us know in the comments of our Facebook Hobby Group, or our new Discord server, and make sure you enter the latest monthly giveaway for FREE today! 
Get ad-free access to our hobby videos, a monthly drop of miniatures, and support some of the best creators out there for as little as $6 a month on Patreon!

This post contains affiliate links, as an Amazon and eBay Associate Spikey Bits earns from qualifying purchases.