Duncan Rhodes Two Thin Coats Paints Wave 2 is coming with 60 new colors and already has an insane number of followers for the Kickstarter Launch.
The first wave was also initially a Kickstarter and did really well, so it only makes sense they are keeping the line going. We'll take a look at the new line and what will be included and then jump into where you can currently score the first line and what's in it.
Let's take a closer look!
Two Thin Coats Wave 2 Kickstarter Has 2300 Followers Already
They released some info about the new Kickstarter Campaign, which launches on  January 24, 2023, so not far away at all now. If you want to follow the project, you can check that out here and get notified when the project goes live!
Here's the press release on what new colors will be included in this campaign:
Two Thin Coats Wave 2 will be based on the same high-quality formula as before, mixing high pigment count with our uniquely formulated smooth base to deliver the best quality finish. Wave 2 expands the range with:
* 13 new triads, including additional flesh tones and military colours. 
*   6 super bright new primary and secondary highlights
*   6 metallics to expand the already excellent selection
*   3 new washes
*   And introducing 6 super saturated all-new glazes!
60 new paints in total.
Initially TWO THIN COATS Wave Two will be offered on the crowdfunding platform, Kickstarter, launching on January 24, 2023, and scheduled to ship in the summer, with distributor and retail shipments following immediately after. 
It's nice to see the line expanding and bringing more colors! Considering it is launching next week, we'll have plenty more pictures and info soon!
However, for now, let's check out the first wave and where you can score yours.
Full Line of Duncan Rhodes Two Thin Coats Paints
The initial line of paints was 60 overall, with washes, metallics, and of course, 48 colors.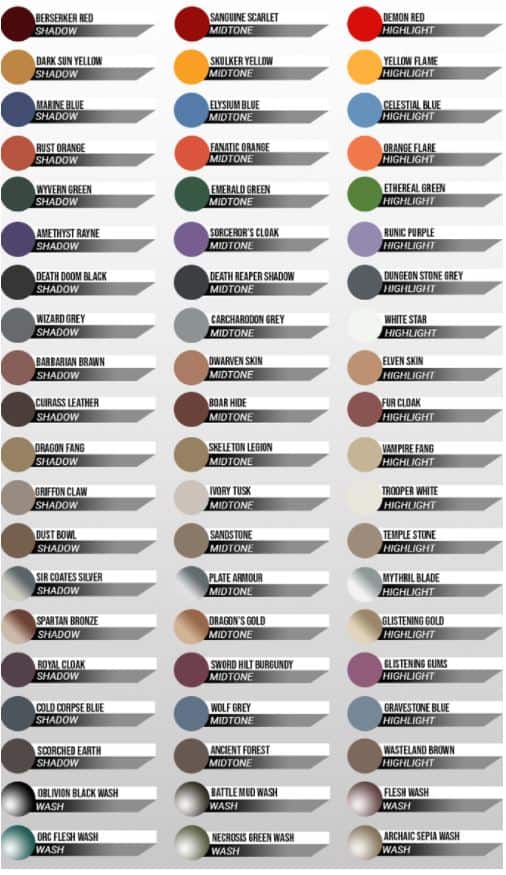 The paints cover a large range and should be able to satisfy your painting needs.
Created from years of professional and hobby painting, Duncan and Roger are proud to present their greatest innovation – the Duncan Rhodes Painting Academy: Two Thin Coats. Each color has been expertly created by some of the world's foremost paint-chemists working hand-in-hand with Duncan to create the perfect shadows, midtones, highlights, and washes for every painter – from those just starting out, to award-winning artists!
Asmodee Has Distribution
Asmodee USA announced they will work with Trans Atlantis Games as the exclusive distributor of Duncan Rhodes Painting Academy: Two Thin Coats Paints in the United States and Canada.
These paints started shipping to retailers in late 2022, which should allow hobbyists who already missed out on the Kickstarter or need replacements to pick up paints locally!
Are you going to join the Two Thinn Coats Paints Kickstarter for Wave 2? Are you excited to get more colors? 
Let us know in the comments of our Facebook Hobby Group, or our new Discord server, and make sure you enter the latest monthly giveaway for FREE today! 
Get ad-free access to our hobby videos, a monthly drop of miniatures, and support some of the best creators out there for as little as $6 a month on Patreon!