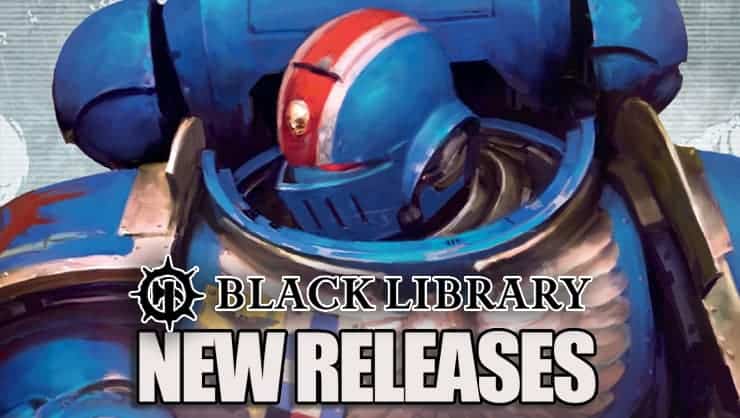 The latest Black Library releases are here, spotlighting Arkanauts and Warhammer Horror for the lore side of things this week.

Drekki Flynt! Captain of the Aelsling, known throughout the Skyshoals of Achromia! Say his name and make half a tavern starry-eyed, while the other half mutters about how much money he owes them.
Drekki Flynt! Uncommonly tall for a duardin – an adventurer, an endrineer, a wit, and a self-proclaimed genius.
Drekki Flynt… is in trouble.
Lured by the promise of a lucrative contract, Drekki finds himself at the mercy of his nemesis, Rogi Throkk, who gives him an ultimatum – recover the fabled talisman of Achromia, or die. As it is, Drekki will probably die anyway, but that's really not Throkk's problem. Braving perils including – but not limited to – giant air-beasts, grot pirates, and terrible storms, the crew of the Aelsling is sucked into a conspiracy that will see an ancient empire rise again, or fall forever to Chaos…
Written by Guy Haley
A girl stumbles across the moors, death hard on her heels. To her saviours, she speaks of Calignius – a smog-shrouded mining town deep in the mountains that has been gripped by a strange epidemic.
Now, Runar Skoldolfr and Tiberius Grim must lead a small expedition into the haunted vales of the Blood-Rock Peaks to answer the girl's pleas for aid. There, the hunter and the veteran priest of Sigmar will uncover the enigma of a forlorn-looking statue and its curious sway over the town – a place ruled by ancient fear and phobia, zealotry and madness.
Separated and isolated, Runar and Tiberius will learn there are far worse fates than death, for in Calignius friendships turn sour, faith boils into anguish, and long-buried nightmares rise up from the shadows. If they are to survive, they will need to find a way to unite against the daemons that divide them.
Written by Dale Lucas
An irascible veteran conceals a monstrous secret. A young victim of tragedy seeks the protection of their mysterious lord. On a feudal world, two men plot against a governor suspected of heresy. And in the pitch-dark skies, a malign entity preys upon a navigator.
From the slaughterhouses of Imperial hive cities to the war-torn streets of the Mortal Realms, superstition and deceit runs rampant. Twisted sacrifices, beguiling foes, the lies we tell ourselves – these horrors drag their victims, blind or screaming, down sinister paths to a final place of rest.
CONTENTS
The following short stories were originally published digitally in the 2021 Horror Week eShort bundle:
– The Vintage, by David Annandale
– The Isenbrach Horror, by Darius Hinks
– Aberration, by Jake Ozga
– Blood Drinker, by James Brogden
– Bird of Change, by Richard Strachan
The following short stories were originally published digitally in the 2022 Horror Week eShort bundle:
– The Pharisene Paradox, by R S Wilt
– The Stacks, by Chris Winterton
– King of Pigs, by J H Archer
– The Somewhere Sister, by Jeremy Lambert
– The Gnarled Bough, by Jamie Mistry-Evans
– Pain Engine, by Chris Thursten
The following two short stories are brand new for this volume:
– Collapse, by J H Archer
– Old Soldiers, by Richard Strachan
Horror requires a unique type of reader, but those who love it, REALLY love it. If that's you then try this out!
This is quite the sweet deal if you want to listen to podcasts or books! Especially if you're traveling, this is perfect for helping pass the time. Here's everything you get even at the cheaper price:
1 credit a month to pick ANY title from our entire premium selection—to keep forever!
Stream or download 1,000s of included audiobooks, podcasts, and Audible Originals in the Plus Catalog.
No commitments. Cancel anytime and keep all your purchased titles.

If you've never used Audible before, the credits are really cool. You get a free book monthly, on top of all the streaming stuff you get to keep. So just with this, you'll get Black Library books to keep, which is just cheaper than they actually cost.
Are you excited about the new Black Library release this week?
Let us know in the comments of our Facebook Hobby Group, or our new Discord server, and make sure you enter the latest monthly giveaway for FREE today! 
Get ad-free access to our hobby videos, a monthly drop of miniatures, and support some of the best creators out there for as little as $6 a month on Patreon!

This post contains affiliate links, as an Amazon and eBay Associate Spikey Bits earns from qualifying purchases.