You won't believe how good these painted miniatures are from the AdeptiCon 2023 Golden Demon; here are all our favorites so far.
With tons of different games, players, and so much going on, AdeptiCon 2023 is the place to be! They have something for you, no matter what game you enjoy.
AdeptiCon had players from all over the country stop in and show off their most beautifully painted armies, and people took it to the next level this time around!
Click on the links below to see the rest of our coverage of AdeptiCon 2023:
Golden Demon Winner at AdeptiCon 2023!
If you went to AdeptiCon you might have seen this model in person, but if you missed the event, you can still drool over the fantastic paint job! There were so many amazing minis and quite the turnout at the event, so Neil really had to go above and beyond to win this year, and it's just great to see the Golden Demon back again.
These top place images come from this Warhammer Community post.
This year's champion is Neil Hollis, who painted a truly jaw-dropping version of Master Lazarus of the Dark Angels.
Look at those incredible blends on the armour and robes! The beautiful non-metallic metal on the trim and sword! Glory at the freehanded Dark Angels icon on the back of the cloak! Even the feathers on the helmet have been painstakingly painted one by one.
The blending on this is quite sublime, and with all the NMM (Non-Metal Metallics), it just looks amazing.
This is actually the SECOND Slayer Sword that Neil has won – after taking the top prize at the The Horus Heresy Weekender in 2017 for an iteration of the Iron Warriors Primarch Perturabo.
Speaking to Warhammer Community just moments after collecting his latest award, Neil said: "It's like a dream, it doesn't feel real.
"I didn't feel like I had much of a chance. I thought I was hopefully going to get a trophy in the Single Miniature category, so that's what I was putting my hopes into. It's like a dream come true."
Neil almost didn't attend Adepticon this year, but was persuaded by friends to share their hotel – and it's a good job he did!
Good thing he did show up, but if you spend this much time on a miniature, might as well show it off at the biggest event for Wargaming in the USA. Every little detail of this is just incredible and should give you plenty of inspiration for your own hobbying.
It's only very slightly converted, so I changed the sword around and he's based standing on a black and white marble base. It was quite a long project, I started it pre-Covid. It got 90% completed, and then Covid happened and I stopped painting. I only really started getting him finished again recently.
This Slayer Sword award is so cool and having this on your hobby shelf would be the envy of all. As we said, a ton of work went into this, and since he started before COVID, that means this was a multi-year project.
The AdeptiCon 2023 Golden Demon is Full of Amazing Minis!
Diroama by Osvaldo Garcia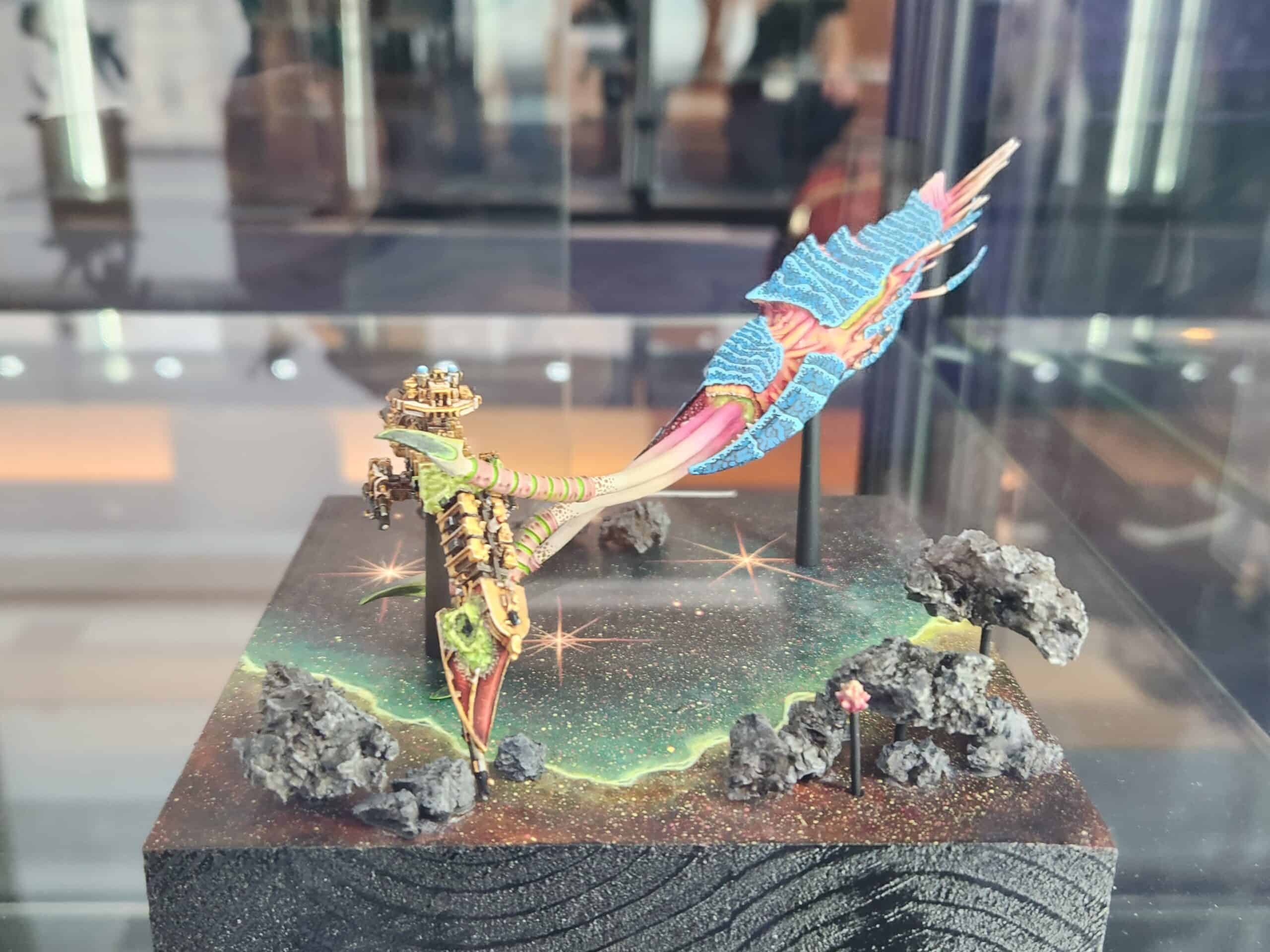 We move fast taking pictures when we're guests at tournaments helping to cover the event for them. If any of these features are your army and you would like the full-size images or credit added to the article, just email us: support AT spikeybits.com
Have you made it to AdeptiCon before? What event was your favorite? 
Let us know in the comments of our Facebook Hobby Group, and make sure you enter the latest monthly giveaway for FREE today! 
Get ad-free hobby videos, a monthly crate of miniatures, and support some of the best creators out there for as little as $6 a month on Patreon!