Here is the latest on WizKids' new Star Trek: Into the Unknown Core Set miniatures from their preview pack and demo games walkthrough!
If you love Star Trek and tabletop gaming, this looks to be one of the better set-up games we've seen for the IP. Obviously, we haven't played it yet, but from the looks of everything so far, it's looking promising.
The game looks very much to have an Armada vibe, and according to the pictures, the ships look quite massive and proportioned correctly to one another.
Plus, we know everything that will come in the starter set and the price from Wizkid's latest previews.
Star Trek: Into the Unknown Core Set Miniatures Game Walkthough
Here is a walkthrough demo of the new Star Trek Into the Unknown Miniatures game from Paper or Plastic Sports and Games.
At the Alliance Open House, WizKids announced their new Star Trek Into the Unknown Miniatures game on September 8th, 2023.
Wizkids have had several Star Trek game releases in the past, with both Frontiers and Attack Wing, but those games are much more focused on a dogfight feel. This new game seems to be much more thematic with actual large ships!
While some players have given WizKids some grief for Attack Wing, the game did run for about ten years, so it's not too bad for a game. Considering this is Star Trek, there will be more than just combat. With Diplomatic maneuvers to move along the campaign. But like most thematic games,  you can also play this as a single encounter game.
Now, here's everything that comes in the starter:
Star Trek Into the Unknown Federation vs. Dominion Core Set:
Pictures from the event come from Tales of a Tabletop Skirmisher.
Galaxy-Class starship, a Constellation-Class starship, a Defiant-Class starship, a Jem'Hadar Battle Cruiser, 2 Jem'Hadar Fighters, a rulebook, a learning guide, 12 custom dice, 3 acrylic range rulers, 15 acrylic system markers, 2 turning tools, 24 Mission cards, 30 Officer cards, 30 Damage Effect cards, assorted tokens, and 30 Equipment, Directive, and plenty of Unit cards.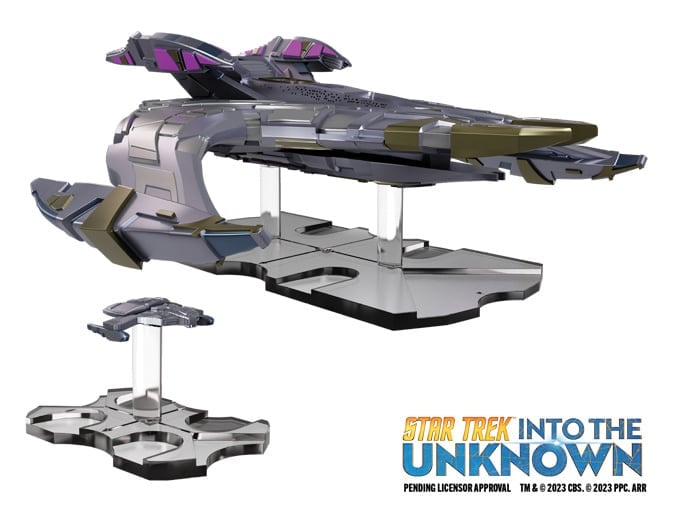 The game will retail for $149.99, but you can often find some decent prices on WizKids products from Amazon and local stores. So, there's a chance you can get it for less, as this is just the MSRP.
However, the game isn't set to release until April 2024.
The ships look amazing, and they are quite giant! The Enterprise-D is actually 6″ long and, as you can see, is on two flying stands
You'll get cards for different ship commanders, and they will give you ships different abilities. If you've played Armada, you'll have a good idea of how the cards will work.
It looks like they will go big with this game and not only have free scenarios but also have plenty of expansions and in-store events! So, it looks like some big plans for the game.
Last but not least, it looks like there will be three ways to play the game and plenty of narrative options, which is always good for a property like Star Trek that has so much source material.
If you've wanted to battle in the Star Trek universe, this game might be right up your alley. 
What do you think about the new Star Trek Into the Unknown miniatures game from WizKids? 
Let us know in the comments of our Facebook Hobby Group, or our new Discord server, and make sure you enter the latest monthly giveaway for FREE today!

Get ad-free access to our hobby videos, a monthly crate of miniatures, and support some of the best creators out there for as little as $6 a month on Patreon!