Armies On Parade 2014 has come and gone and I wanted to share with everyone this spectacular Red Templars Space Marine Airbase display done by a friend of mine at Games Workshop in Bowie, Maryland.
My friend began this project early last winter, then dropped it when it was clear there would be no US Games Day this year. Thankfully, Games Workshop announced a few months ago that they'd be supporting Armies On Parade in their stores so my buddy resumed and finished the project with the enthusiasm with which he had started it. I think you'll agree that the results were well worth it.
I had the foresight to begin taking photographs of this project from the beginning. Here are a few work in progress photos to give you an idea of the massive amount of work involved in building and painting this display. A good portion of the elements on the display board are built from scratch and there's plenty of converting and painting effort in the whole thing as well.
This photo was taken while the main construction on the landing pads was in progress. You can see that plastic card, some plain and some textured, has been used to build the two smaller landing pads in the back from scratch.
Here's a closeup of one of the scratch built landing pads. Lots of precise measuring and cutting went into this part of the project.
Here you can see how the landing pads are being fit into the display with housings and transition areas being scratch built around each of them.
Plastic card has been used to create walkways and borders around the landing pads. Rivets and badges are also being added at this point. Note the doors made from GW Space Marine Rhino kits.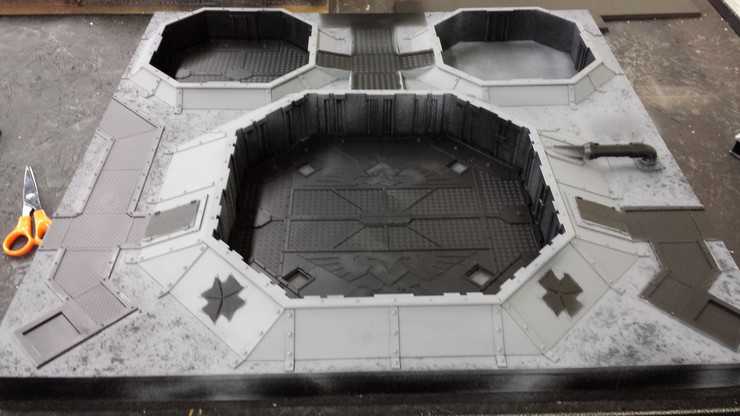 Some badges and icons are also hand cut from plastic card. Walkways, borders and transition strips and rivets are all added by hand with lots of cutting and measuring involved. The concrete texture was done with textured paint.
Here it is in the middle of the painting process. Note the completed control tower in the back. The air traffic control tower is mainly built from parts of the GW Bastion kit, but the windows are scratch built!
Here's a closeup of a completed landing pad. Note the areas around it are only partially painted at this point. There are a lot of hours of labor in this project.
Small details like this cargo palette give the display the feel of an actual working airport.
Here is the finished project in all its glory! Each landing pad has an aircraft on it. The main pad has a squad of Space Marines and a Dreadnought just loading into or out of the Stormraven.
Attention to detail really makes this display a lot of fun. The air traffic control tower was laboriously converted and constructed from GW parts and hand built pieces.
One of the Stormtalons is in flight on pad #2.
The main landing pad's Stormraven has a squad of Space Marines and a Dreadnought standing nearby ready to board or perhaps they've just disembarked. There's some conversion work on the top of the Stormraven visible in this photo too.
The cockpit of each aircraft is meticulously painted. Here you can see the pilot of the Stormraven at the controls. Note the weathering effects on the Stormraven.
A Space Marine airbase is a military installation so of course it has built in dedicated defenses like the large Icarus Pattern Lascannon shown here.
A lot of time and dedication goes into projects like this, but the results are a pleasure for hobbyists everywhere to see. Needless to say, this was the Armies On Parade first place winner at Games Workshop Bowie this year. If you want to see last year's spectacular winning entry by the same hobbyist you can check it out at this link here.