Do not miss this one folks, we got the first look at the new White Dwarf, and a list of the pricing for the Fall of Cadia release that are coming next week!
According to one
Facebook Page
these are the new releases for the Fall of Cadia and the Disciples of Tzeentch for Age of Sigmar:
Ladies and Gentlemen, Cadia falls. Literally, they say it.
Talking about releases:
– Gathering Storm – Fall of Cadia 40€, £30, USA $50, Can $60, Aus $84, NZ $99
– Triumvirate of the Imperium 85€, £50, USA $80, Can $100, Aus $140, NZ $165
– Chaos Battletome: Disciples of Tzeentch 20€, £15, USA $25, Can $30, Aus $40, NZ $50
– Gaunt Summoner 20€, £15, USA $25, Can $30, Aus $40, NZ $50
– Ogroid Thaumaturge 32,50€, £25, USA $41, Can $50, Aus $70, NZ $83
– Kairic Acolytes 40€, £30, USA $50, Can $60, Aus $84, NZ $99
Here's the pictures as well (sorry Italian)
So it appears that all FIVE of the new miniatures will be coming in a single box set for a whopping $80.
The Fall of Cadia book will be $50 and we know it's hard cover because it was on GW's Twitch Stream.
Also the new Tzeentch Age of Sigmar wave will be spearheaded by the Silver Tower single releases as well as the Disciples book week one!
Remember Games Workshop said this AoS release would be over multiple weeks as well! 
So looks like a HUGE lineup for releases for Jan 7th is on deck. Can your wallet withstand firepower of this magnitude?
What You Need To Know About Gathering Storm: The Fall of Cadia:
Abaddon is leading the 13th Black Crusade into the Cadia Gate once again.
GW has confirmed these Sister models are plastic, with Celestine being the first official plastic Sister:
The three "new" Characters are: Inquisitor Greyfax, Belisarius Cawl (Ad Mech), and Celestine the Living Saint!
There are datasheets in the new book for them and Belisarius was said to be T6 with 5 wounds. The opposite page from him also looked to have the rules for Canticles which may foreshadow his exact faction. Also apparently he has been running around for 10,000 years "doing something that will be revealed in this book".
The "best Warhammer 40,000 story is starting in 2017, and will go on into 2018 and beyond."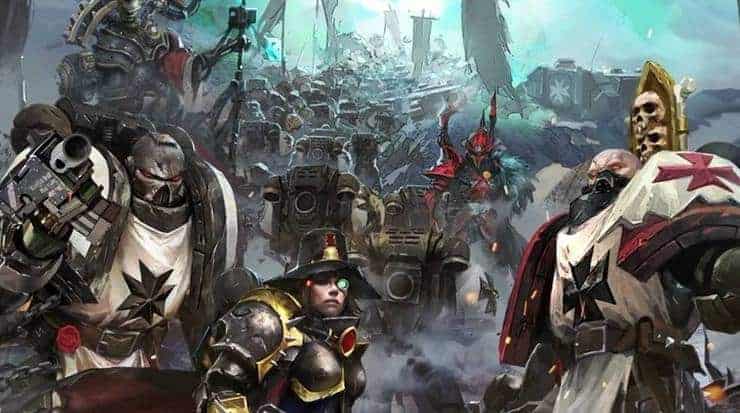 Episode 101 - Swarmlord VS Leviathan