It's day two of the sixth Horus Heresy and Necromunda weekender and details are emerging about the new Horus Heresy Rules and Primarch models that will be on the way soon!
It looks like we'll be getting not one but at least TWO new primarchs in the very near future from Forge World and a complete update to the red books as well as some legions will be changing starting with what looks to be a new name for book VIII: Malevolence.
Hobby Hero Garro is on the floor in Nottingham posting up a ton of great images from the event, including an awesome look at the Horus Heresy seminar:
Looks like tons of updates are on the way from this seminar for players of Horus Heresy including Daemons!
The Varangian Heresy podcast dug a little deeper and had a great summary of this showcase Saturday as well:
White Scars, Blood Angels and Demons!

So breakdown of what's going on:
Rules for – Blood Angles, White Scars, Demons of the Ruinstorm, space Wolves and alpha legion.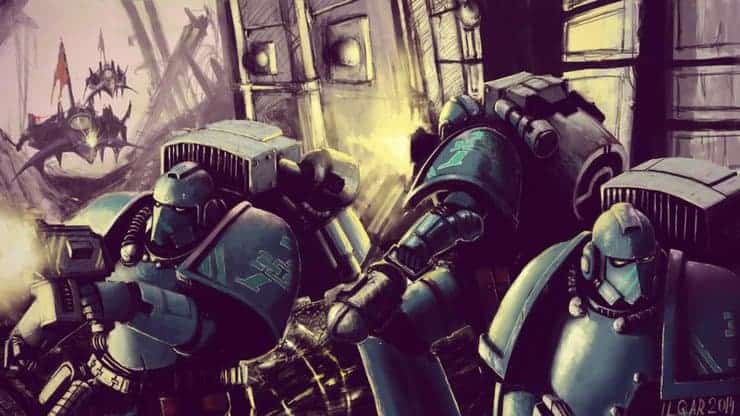 Rules for Khan, Sanginius, Omegon and other characters.

Also civil war within the alpha legion and signups prime and Chandax among other things. Heaps of background story about BA and WS and the others also demons are very themed as stand alone but can still be use to represent the 4 power or minor powers kind of build your own demon list.

Host of sacrifice is a Blood angels destroyer unit.

New revised rules for general destroyer unit are coming.

Next book will contain Dark Angels and 2020 all the red books will be updated and include all the legions.
Updated psychic rules and how to summon demons.

They will revisit the rules and make incorporate community feedback. Also Anju knows about the Varangian Heresy FAQ and we can see an updated FW FAQ soon with almost most of the things touched in the Varangian to be included in it 


Khan will have options for mounted and dismounted.

Next book after this is dark mechanicum and dark angels. Focus is Terran tech and weird mechanicum monsters.
And of course, GW looks to have preview what appears to be a very ornate suit of armor that could only belong to Alpharius himself…
The new preview above from GW, and below in the Pythian Scales from his rules entry in the Horus Heresy:
New primarch models, kits galore, and new red books in 2020! Overall it looks like fans of the Horus Heresy have tons to look forward to heading towards the final assault on Terra.
What do you think about the latest Horus Heresy and Necromunda Weekender pictures? Which new primarch are you hoping for next? Let us know what you're looking forward to getting once they become available.
Latest on the Horus Heresy & Necromunda Weekender
Spikey Bits Latest
Latest Long War Podcast - Listen NOW!