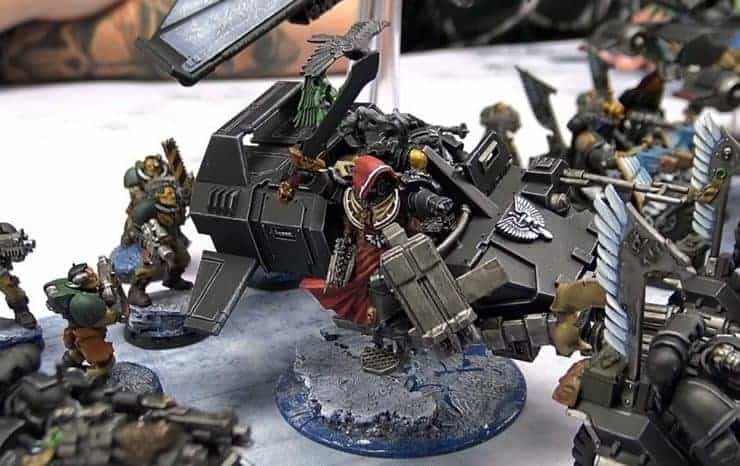 Fly him closer he wants to hit them with his power sword. Come see a very cool Dark Angels Primaris and Ravenwing army painted with a uniquely mysterious, knightly flair.
Austin and Kinder from the Wobbly Modelers showcase their Dark Angels army, featuring Azrael and Primaris marines. Take a look at this quick overview of their amazing work and be sure to press play on the video below for the entire scoop!
Lead by Chapter Master Azrael, this Dark Angel list also includes some Primaris, Black Knights, Samael, a Talonmaster, Dark Shroud, and Dark Talons. This army is fast and has a lot of 3 damage plasma weapons. Paint-wise, the army was modeled after the lore behind Dark Angels, using the idea that Caliban was run similar to King Arthur and the Knights of the Round Table, with each knight having unique heraldry and character. In this, each model has uniqueness while still fitting with the entire theme of the army itself.
The attention to detail in this army is amazing. On the Dark Talons, the wings are done similar to stone, matching the bases and giving great character. This extends to some of the other details on the flyer, giving the illusion of being a flying building. Each of the scouts is detailed, including black and yellow chevrons on the chain sword, and no details skipped. There is stained glass detailing, highlights, conversions using Bretonnian helms on the knights, and so much more to see in this army. Each of the plasma guns even has OSL around them.
Head over to the Wobbly Modelers to find out more information on how to commission them, and see some of their other fantastic work. Check out the entire showcase by pressing play on the video below!
Spikey Bits Latest
Latest Long War Podcast - Listen NOW!