If you are in the market for an affordable flyer, then Mantic Games may have exactly what you are looking for with the Hornet Dropship.
The GCPS Hornet Dropship is the new flyer for Mantic Games' Warpath miniature game. It is currently on pre-order and will be shipping on April 23rd. As you will see in this review, you will definitely be getting the most out of your hobby dollars with this kit.
Our very own Rob Baer has this flyer on his paint bench to give you everything you need to know about this affordable kit.
For our complete review, be sure to scroll down!
The Hornet Dropship kit retails for $39.99 and the level of detail is adequate for the price you are paying. This is a hard plastic kit and will come with three weapon options, a detachable transport compartment, rotating turbines, and a clear plastic flight stand. The transport compartment is just the right size for Imperial Guardsmen models. This kit does have decent tolerances and the pieces fit together well.
The kit did assemble easily being what we think was a pre-production model. The landing skids are made to be detachable as is the transport compartment in order to give you more customization options. There were no issues when assembling. You may want to use a little Vallejo's Plastic Putty on the top seam that runs the length of the flyer.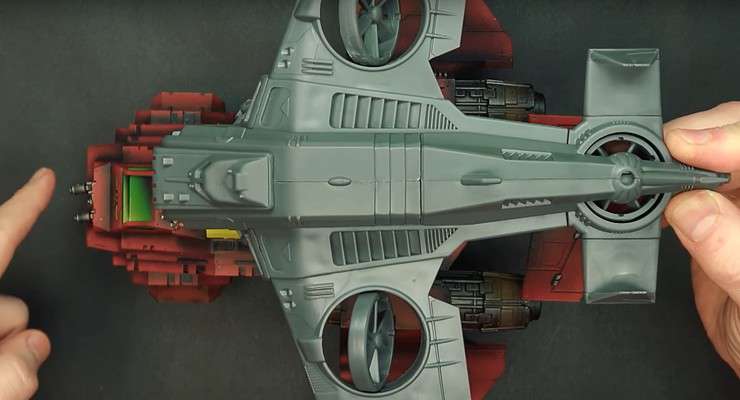 Overall it is a solid design and has a great price point for all the features that come with it. This kit can easily be converted to be a fully armed flyer or a heavy armor transport with a Leman Russ or similar tank sitting on the skids.
Rob continues with further detail of the kit and does a size comparison in his full review video below!
The TAD-65 Hornet is the workhorse of GCPS navy, at home transporting everything from supplies to soldiers on newly acquired worlds. The Hornet may not be the most comfortable ride in the galaxy, but a GCPS trooper would not replace them for anything. 

This set contains 1 Vehicle for Warpath, including:

1 Hard Plastic TAD-65 Hornet Dropship

Rotary Cannon, Laser Cannon, and Missile Launcher Weapon Options

Detachable transport compartment with opening doors

Adjustable turbines

Detachable landing gear

Transparent Flying Base

Miniature supplied unassembled and unpainted. Infantry not included. 
Please note, some components are PVC plastic and will require super glue.
The GCPS Hornet Dropship is available now online for pre-order and will ship on April 23rd. Be sure to press play on our quick and dirty review video below for the full product breakdown.
For more on the Hornet Dropship, Warpath, and other Mantic products visit Mantic Games!
Hornet provided for promotion & review.
Spikey Bits Latest
Latest Long War Podcast - Listen NOW!