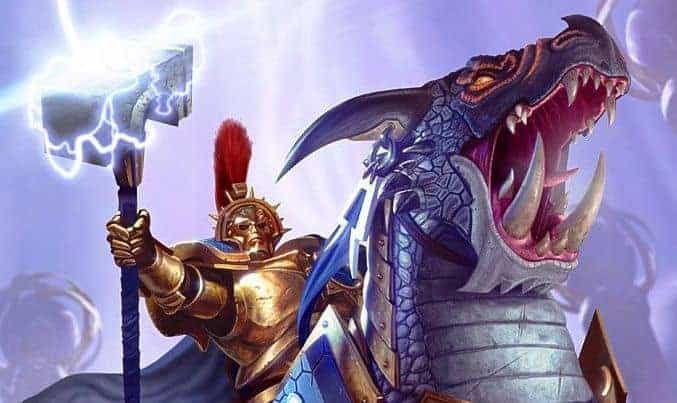 Looks like Games Workshop is expanding strong into the Asian market as Japan is getting more hobby exclusives and a huge feature in their monthly hobby magazine.
Warhammer Harajuku released a photo of some Stormcast Eternal models and it kept us guessing for a while.
What's Coming to Japan?
Japanese hobbyists get to break out the paintbrushes and modeling snips because of a special offer in Hobby Extra Volume 9 that comes with a Stormcast Eternal Liberator to build and paint.
Warhammer in Japan is something that has been slowly growing over the years with the introduction of Warhammer Stores, and the exclusive Heroes line of Space Marines. It's exciting to see more people across the globe, getting their hands on the hobby. With Games Workshop following a more proactive marketing strategy, hopefully, we will see an explosion of interest.
Being that Warhammer isn't nearly as popular in Japan as it is globally, different marketing strategies have to be done. With the hype of Age of Sigmar 2.0 on top of giving the hobbyists of Japan a free Stormcast Eternal, maybe we will see Games Workshop gaining more of a foothold in the Asian market once again.
Missed what else is happening in Japan? Look no further.
Warhammer Harajuku teased the new release of Space Marines Heroes Series 2 on their Twitter page recently, and it looks like The Sons of Sanguinius are dropping in for the second installment of the Japanese exclusive.
New Blood Angels
According to this, there will be six heroes of the Imperium including one with a standard bearer, storm bolter, and a cyclone missile launcher. The models come colored red and in an easy to build (ETB) fashion similar to the Dark Imperium box set and the Shadespire Warbands so new collectors won't have as many problems getting into the hobby.
To add even more hype, this release will also include a hobby set which features paint instructions, and a 12-paint set, and a paintbrush.
Rumors are floating around that a "mysterious box" including a random figure will be making an appearance as well.
SM Heroes Series 2 Released Photos:
What do you think the other four miniatures in the series will come equipped with, and what could this "mystery box" figure be?
Here was the latest we heard from Games Workshop back in February:
GW was pleased to announce Series 2 of the Space Marine Heroes line that is exclusive to Japan. Let's see what they had to say about it.
Great news, Space Marine Heroes fans – following the success of the first wave, a brand new set of Adeptus Astartes champions is on its way for you to track down and collect – here's a teaser for one of them:
Exciting stuff!

We know loads of fans based outside of Japan have been keen to get their hands on the Space Marine Heroes, and we're currently looking into the feasibility of this.
The success of the first wave of Space Marines Heroes has given GW all the more reason to keep it going, the only downside is they're Japan exclusives and not that easy for people in the rest of the world to get their hands on them. Well, that might be changing soon, as Games Workshop said they are currently looking into the feasibility of making these minis available elsewhere via their Facebook.
What do you think about the Space Marine Heroes Series 2 announcement? Were you able to get your hands on any of the first set?
If you missed series one's lineup of figures, check out the full Spikey Bits unboxing video below:
Spikey Bits Latest
Latest Long War Podcast - Listen NOW!