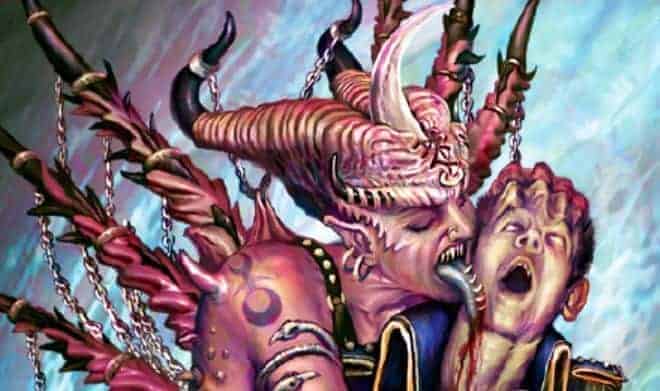 What looks to be a new demon miniature was just spotted, the question is what do you think this lithe pincer claw belongs to?
Like Demons? Like big meaty claws? This bit could be of all three of those things!  Without any further delay, here's the pic that was just spotted on Imgur.
A New Demon Model Has Been Spotted
Notice anything that screams pleasure, pain, and everything in between? How about that giant claw arm! The detail doesn't just stop there.  Check out the elegant curves and design on the claw…
That's most definitely not a giant bug arm.
It looks like it's cast in resin and is inside a box bigger than what you'd expect a smaller model to come in (like clamshell pack characters).
Looking at the claw even closer, do you see a slight resemblance with these old Daemonette models? There's a giant claw with a little pincer where the thumb would be.
Going by the picture in compared to the peanuts and the cardboard box, the claw already looks too big to be proportionate to a Daemonette mini.
Creature Caster just released a new line of "King" models that tower above the majority of their existing models, perhaps they're releasing one fit to compliment a King?
With that being said, is this something like a Demon Prince or something BIGGER? What does the rest of the model look like? How big will it be? What will it be called?
Let us know what you think in the comments of our Facebook Hobby Group. 
Spikey Bits Latest
Latest Long War Podcast - Listen NOW!