The LVO previews revealed some of the rumor engine teasers from 2019, but there are still 20 new Warhammer models are still out there waiting in 2020!
With the 2020 LVO bringing tons of new previews to the hobby world, there are a bunch of rumor engines we can finally cross off our list. Here's what we're still waiting to see as well as the latest uncovered bits.
These Are The 20 New Models Left After the LVO Previews!
April 16, 2019
This bit is one of the hardest ones we've ever had to identify. We really don't have any clue as to what this could be.
May 14, 2019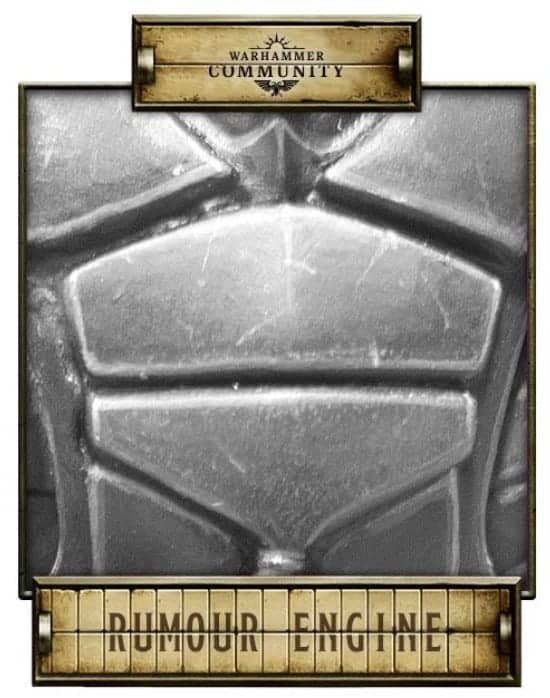 Suit up with another rumor engine from Games Workshop. Take a look at what we think may be a chest piece- let's see if we can narrow it down some!
May 28, 2019
Whether this thing is a chest piece or some kind of leather harness to an animal, we're not sure. But we feel like this bit could also go to the scaled-tail from above.
June 18, 2019
GW gave us another hint on what may be the next big release. At the very least, it looks like it's coming to the 40k universe.
July 30, 2019
Another rumor engine is here once again showcasing someone's magnificent studded cowboy boot. Let's break this big ol' boot down!
September 3rd, 2019
Another Rumor Engine is here and we're not sure if it's for Age of Sigmar or 40k. Check out what is on the way for one of GW's top games.
September 10th, 2019
What looks to be a crude sign made of spare parts found by an alleyway, we're scratching our head as to what this could really be.
September 17th, 2019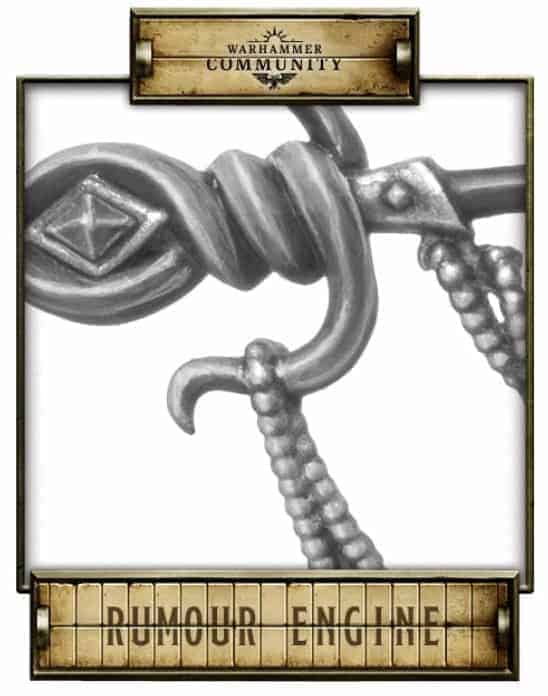 This looks to be the business end of a Trident or just a blinged-out staff. Either way, WHC gave us a hint describing its as "magic".
September 24th, 2019
Another GW rumor engine is here and it looks like we've got a snapshot of an Ogor's best friend. Check out this bit and let us know what you think.
October 1st, 2019
We've got another GW rumor engine and while it's got a familiar shape, we're not entirely sure who it's going to or to what game. Take a look.
October 15th, 2019
Another rumor engine is out and making its rounds across the web. What new model could be in store for next from GW' after taking a look at this bit?
October 22nd, 2019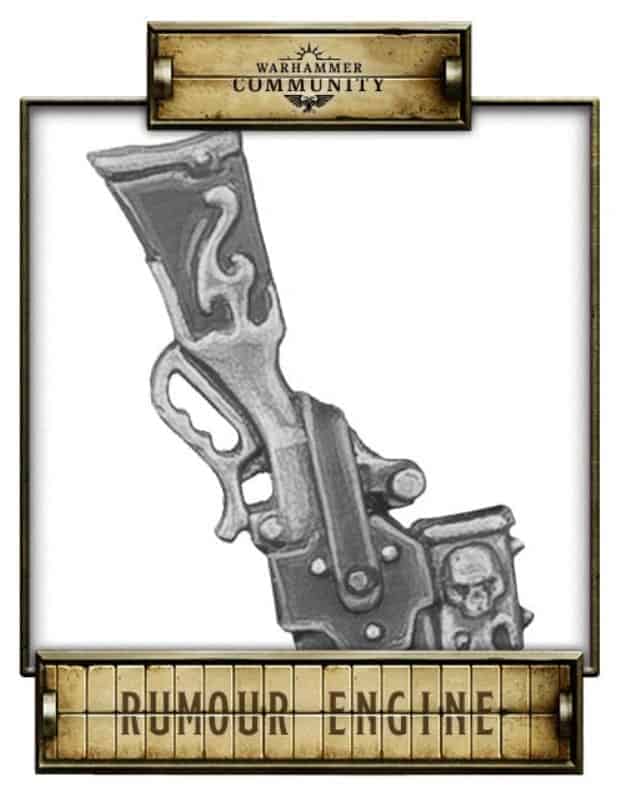 Another GW rumor engine is here and there are a few clues pointing to which game it could be coming to. Let us know what you think!
October 29th, 2019
Another rumor engine is here and it's something we didn't really expect. GW has given us a new look into one of their projects so be sure to check it out now!
November 12th, 2019
Can you spot something familiar? A new rumor engine is here right on time. However, we're having some trouble getting an idea of what we're looking at.
November 19th, 2019
Another rumor engine is here and it looks like there might be more in store for Destruction in the ways of Age of Sigmar. Check out these new clues.
November 26th, 2019
Yet another GW rumor engine is here and it may bring proof of new Seraphon lizardmen for Age of Sigmar.
December 17th, 2019
December 24th, 2019
On Christmas Eve, GW gave us another rumor engine to sit on while we move into the new year. Check out this bit that's been spotted!
January 7th, 2020
Heres the first rumor engine of the decade! There's a couple of possibilities for sure, but what could it be?
January 14th, 2020
In the realm of rumor engines, we're back at looking toward Age of Sigmar. Check out this rumor engine that hit the list of mysteries.
Latest Identified Bits
Latest Confirmed Rumor Engine Releases:
May 21, 2019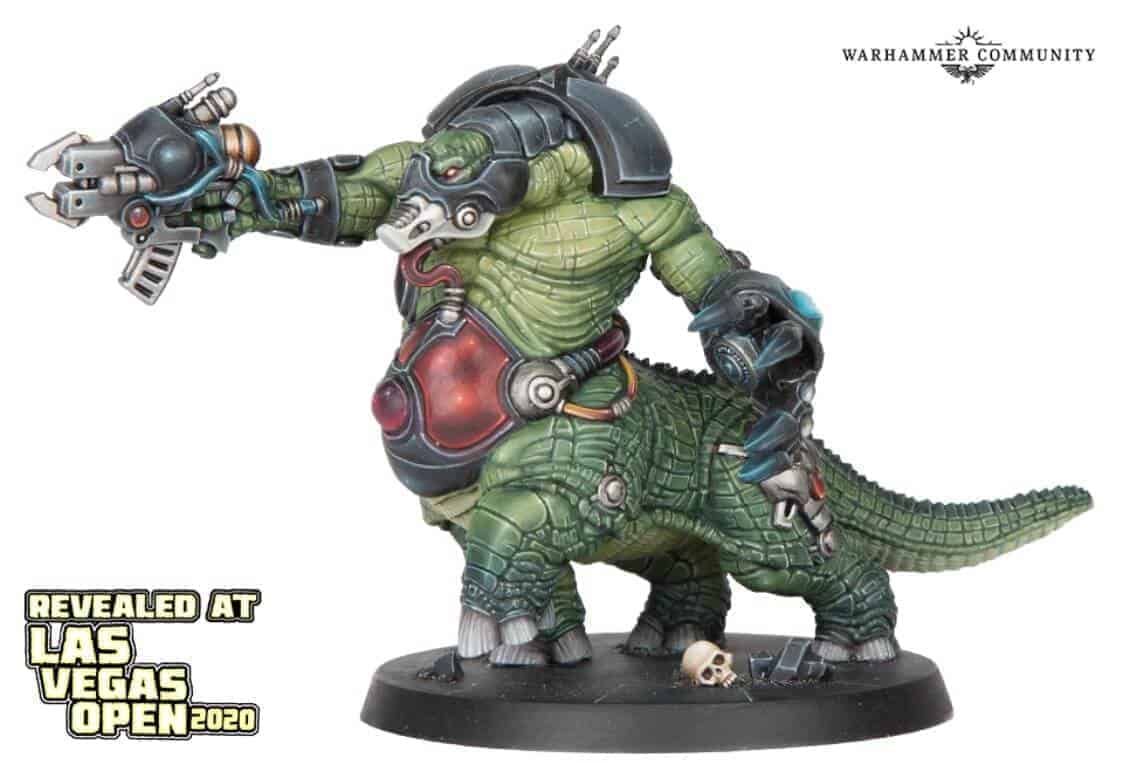 The bit was first spotted in May of 2019, meaning that the Zoat was a project that's been a long-time coming! Check out this age-old ex Tyranid faction moel that's making its way into Blackstone Fortress.
November 5th, 2019
The Pteraxii, coming to the Admech forces are using these DaVinci-inspired looking wings to swoop into combat.
December 3rd, 2019
Next to Teclis' mount, there is a small garden of bonsai trees. Looking at the rumor engine from above, we've got an exact match.
December 10th, 2019
Coming from a teaser video of Ghazghkull and his sidekick Makari, it looks like the massive Ork is going to have some crank-start power armor.
December 31st, 2019
January 21st, 2020
It might look like an everflowing chalice of magical pickled eggs. But it's actually just the plumes of the new Aelven faction coming to AoS, the Lumineth Realm Lords.
With the LVO behind us and a bunch of rumor engines off our plate, we'll have to wait and see how long it'll take for the list to fill up once again.
With the rumor engines still left to solve, how many are there that still might be for the Aelves in AoS? Is there anything there for Seraphon?
Let us know in the comments of our Facebook Hobby Group, and make sure you enter the latest monthly giveaway for FREE today!