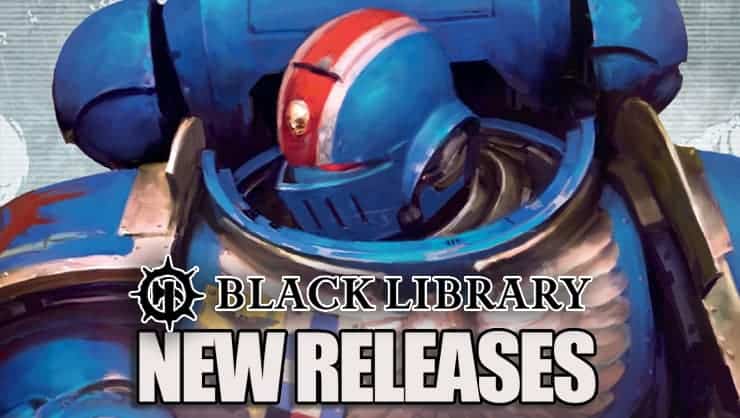 GW revealed even more new releases for next week, as new Black Library and McFarlane figures are hitting pre-orders!

Games Workshop just let us in on more new releases that will be going up for pre-order this coming Saturday at 1PM eastern here in the states.
Be sure to click here for the latest special on Audiobooks that is happening right now to score free Black Library books!
Now let's look at next week's Pre-Order line-up from Warhammer Community.
Starting off with the McFarlane Figures, these are technically able to be ordered right now, but next week you'll be able to order them from Games Workshop themselves as well. Below is the line-up with links if you want to get your hands on them ASAP.
If the stealth and terror tactics of the Primaris Vanguard are your thing, then this Ultramarines Reiver is the perfect action figure to add to your collection. His backpack is outfitted with a grav-chute, so even if you accidentally knock him from your shelf, he's all but guaranteed to land safely (though be careful – in the grim darkness of the far future, anything can happen).
We've seen a bunch of Space Marines before but hey, now if you need to be a little stealthier, this is the way to go. Order yours here at this link.
If you'd rather paint your own Reiver action figure, the Artist's Proof is the ideal choice. What's more, in place of the Ultramarines Reiver's bolt carbine and a grav-chute, this version is equipped with alternative wargear in the form of a grapnel launcher, offering added variety should you get them both.
It's interesting they gave this one a different weapon choice for the AP. These are really fun to paint up and you can make it whatever chapter you want. Order yours here at this link.
Da Orks iz 'ere! The first of four greenskin action figures from McFarlane Toys sees an Ork Meganob armed with a kustom shoota and power klaw and clad in mega armour enter the fray. You also can kit out his armour rig with an optional backpack with attached banner pole, and give him the metal jaw that no self-respecting Nob would be seen without.
This is the first Ork we've seen from them and it's pretty cool, but the paint job does leave a little to be desired. You can always fix it up if you want but having some giant Orks hanging around would be so much fun! Order yours here at this link.
Of course, if you want your Meganob action figure to look even more killy (if such a thing is even possible), you'll want it to be dual-wielding killsaws for some good ol' fashioned slicing and dicing.
With these being more expensive we hope these are bigger and it's a mistake on the site. The accessory of the metal jaw is just a really cool little addition. Order yours here at this link.
The third Ork action figure enables you to match the three-model Meganobz set with a Big Mek clad in mega armour. He's tooled up with all the gubbinz you could want, including a kombi-weapon with skorcha, a power klaw, and even a backpack-mounted kustom force field generator.
With a force field and a kombi-weapon, this is just a really cool figure! Order yours here at this link.
The Artists' Proof edition of the mega-armoured Ork Big Mek is the perfect opportunity for you to try your hand at painting a large-scale greenskin. Armed and equipped with the same wargear as the painted version, you can add your own creative flair to this awesome action figure to make it truly your own.
If you're not too excited about the paint jobs on the above Orks, then this is the way to go. Order yours here at this link.
If you serve the will of the Hive Mind, there's no better way to prove it than with this fearsome Genestealer action figure. It comes pre-painted in the colours of Hive Fleet Leviathan, and this beastie looks ready to tear anything in its way to pieces.
If you love Nids, you're finally grabbing a McFarlane fig! Rejoice for all action figure lovers. Order yours here at this link.
If you're feeling especially outlandish, the Artist's Proof version represents one of the infamous Ymgarl Genestealers, complete with the tell-tale combination of scything talons and feeder tendrils. As a blank canvas, you can paint your action figure in the colours of your Hive Fleet of choice.
Last but not least, the Nids are also getting an AP as well. So if you want to paint up your custom scheme, you can! Order yours here at this link.

Bequin: Pariah (Special Edition)
Book One of the Bequin series gets the special edition treatment, wrapped in a luxury hardback package with sumptuous tarot-style cover art of our eponymous heroine. Strictly limited to 2,000 numbered copies, this edition is signed and introduced by the author, Dan Abnett, and comes with gold-gilt page edges, a blue ribbon bookmark, and leather-effect binding.
Pariah, spy, and Inquisitorial agent, Alizebeth Bequin is caught between Inquisitors Gregor Eisenhorn and Gideon Ravenor, former allies who are now playing a shadow game against a mysterious and deadly foe – and one another. Coveted by the Archenemy, pursued by the Inquisition, Bequin becomes embroiled in a dark plot in which she knows not her role or purpose.
Sigismund: The Eternal Crusader
Sigismund by John French, The third book in the Horus Heresy Character Series arrives in hardback, eBook, and MP3 formats – and it's a must for all fans of the Black Templars and their founder Sigismund.
As the Imperial armies fight the final battles of the Great Crusade, Remembrancer Solomon Voss seeks the answer to one question – why does Sigismund, First Captain of the Imperial Fists, believe that war will not end? Granted a rare audience with the master of the Templars, the answer takes Voss on a revelatory journey to a time before Sigismund became a Space Marine, through his first battles and oaths, to the bitterest duels between Legions.
Character Specific books are usually a good read, especially if you like the faction and its history already.
Traitor Rock
On the world of Malouri, traitorous forces have retreated to an impregnable island fortress. After years of stalemate warfare, the task of breaking the siege is given to Minka Lesk and the Cadian 101st, who find themselves fighting a meat-grinder mission that threatens to devour them. In the midst of slaughter, sacrifice, and brutal attrition, a question must be answered – what does it mean to be Cadian in a galaxy without Cadia?
Traitor Rock, by Justin D Hill, the second novel in the Minka Lesk series comes at last to paperback, ready for pre-order next week.
Cadians are always a great topic, so this book might be a popular one.
You can see this is quite the sweet deal if you want to listen to podcasts or books! Especially if you're traveling, this is perfect to help pass the time. Here's everything you get even at the cheaper price:
1 credit a month to pick ANY title from our entire premium selection—to keep forever!
Stream or download 1,000s of included audiobooks, podcasts, and Audible Originals in the Plus Catalog.
No commitments. Cancel anytime and keep all your purchased titles.

If you've never used Audible before, the credits are really cool. You get a free book a month, on top of all the streaming stuff, that you get to keep.
Are you excited about the new offerings hitting pre-orders?
Let us know in the comments of our Facebook Hobby Group, or our new Discord server, and make sure you enter the latest monthly giveaway for FREE today! 
Get ad-free access to our hobby videos, a monthly drop of miniatures, and support some of the best creators out there for as little as $6 a month on Patreon!